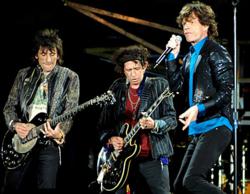 QueenBeeTickets.com will be offering exceptional deals on Rolling Stones pre-sale tickets for the general public.
Germantown, Wisconsin (PRWEB) April 04, 2013
After a long period of speculation, The Rolling Stones have finally announced a new tour for 2013. Concerts have been confirmed and scheduled for Los Angeles, Oakland, San Jose, Las Vegas, Anaheim, Toronto, Chicago, Boston, and Philadelphia. Rolling Stones tickets for 2013 are already populating the secondary ticket market exchanges, and excited fans are securing their seats early. Pre-sale tickets for select Rolling Stones concerts will be officially released on April 5 with public on sales scheduled for April 8.
Fans who want to see this legendary band live in concert can find a great selection of Rolling Stones tickets on sale at QueenBeeTickets.com. This provider is currently offering a large selection of discounted Rolling Stones tickets for 2013 concerts, but these seats aren't expected to last long. The Rolling Stones have played in front of sold out audiences around the world, and demand is incredibly high for the band's upcoming tour.
Last year, fans had only a few opportunities to see the legendary band perform live. The Rolling Stones performed five incredible "50 and Counting" shows to celebrate their 50 year anniversary. These immensely popular shows took place at the O2 Arena in London, England, the Prudential Center in Newark, New Jersey and the new Barclays Center in Brooklyn, New York.
The Rolling Stones have not participated in a full tour in over five years. Their last tour, the "A Bigger Bang" tour, ran from 2005-07. The "A Bigger Bang" tour was extremely successful, and it became the second-highest grossing tour of its time. Experts in the industry are expecting a ticket buying frenzy when Rolling Stones pre-sale tickets hit the exchange on Friday morning.
All of the shows on the Rolling Stones upcoming tour will take place in North America, and the tour will be promoted by Paul Dainty, a promoter from Australia, and Virgin Music. This duo also promoted the 50 and Counting shows last year.
All of the Rolling Stones tickets on sale at QueenBeeTickets.com are authentic and priced to sell. Fans across North America are excited to find the perfect tickets for concerts in their area, so do not delay in purchasing exciting Rolling Stones tickets for 2013 at QueenBeeTickets.com. It is not always easy to find reasonably priced tickets for one of the most popular bands in the world, but fans can visit QueenBeeTickets.com today to purchase discount Rolling Stones tickets.
Whether fans are searching for tickets for rock concerts, country concerts, professional sports games or Broadway shows, they can find what they need by shopping at QueenBeeTickets.com. The site offers a great selection of authentic tickets for many of the today's most popular live events. QueenBeeTickets.com is also committed to helpful customer support and excellent service.