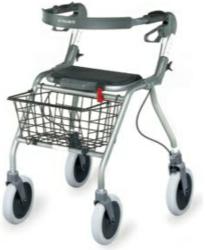 Our goal is to be the best resource for information and supplies on all types of walking aids, from rollators to crutches and canes
Ashton, MD (PRWEB) September 13, 2012
As part of a recent series of updates to their website, JustWalkers.com has added Dolomite rollators to the wide range of walking aids already offered. Rollators, sometimes called rolling walkers, are walkers with a wheel at the bottom of each leg. Though they don't offer quite as much support as a traditional walker, they allow more mobility since they can be used both indoors and outdoors and can simply be pushed instead of lifted. They are also the main mobility device featured on JustWalkers.com.
"When we started the site, we didn't see a real need to sell Dolomite rollators," explains Bryan Mercer, a licensed pharmacist for over 30 years. "They're high quality rollators, but they also cost more than the other ones we sell. We knew from experience that price is a huge factor in what people choose to buy." But after implementing a search feature on their website, Mercer soon noticed that many visitors were searching for "Dolomite."
Just Walkers already offered numerous products from Invacare, who since 2004 has owned Dolomite, so adding Dolomite's rollators to their inventory was relatively easy. And despite the price difference, the Dolomite rollators are already selling well. Just Walkers offers all of Dolomite's most popular models, including the Alpha Gutter Arm, Soprano, Jazz, Melody, Symphony, Maxi Plus, and Legacy rollators.
Though the prices of the new rollators range from $259 to $479, customers are happy with the addition. A recent review on the Dolomite Alpha Gutter Arm Rollator from a customer in Flagstaff, Arizona reads "Just what we needed!!! We were looking for a very specific type of walker and didn't think it existed. My wife and I are both physical therapists and needed something special for her mom, which would get through doorways easier and was easy to maneuver for weaker people who were in pain. And this fits the bill better than anything else we could find."
According to Mercer, Just Walkers intends to keep reviewing and optimizing which products they offer. "Our goal is to be the best resource for information and supplies on all types of walking aids, from rollators to crutches and canes."
About JustWalkers.com
Just Walkers provides premium walking aids throughout the United States for people of all ages looking for the best mobility products at the lowest price. They understand the importance of choosing the perfect mobility device to fit your needs. With this in mind, they offer only the best products, parts, and accessories including detailed information about each product and numerous user reviews to help you with your decision. They are proud to serve those who seek information and assistance in determining which walking aid works best for them. With a wide assortment of walking aids at affordable prices, JustWalkers.com is determined to make your shopping experience worthwhile.