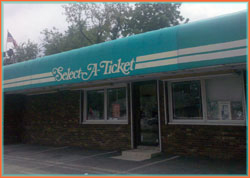 The Stones and their music are virtually ageless, judging by their late 2012 shows they still have tons of energy on stage and their songs have certainly withstood the test of time
Riverdale, New Jersey (PRWEB) April 15, 2013
New Jersey based ticket broker, Select-A-Ticket, is pleased to announce the availability of Rolling Stones tickets for their upcoming tour. For these highly anticipated performances, tickets are available via SelectATicket.com where users pay no hidden last minute fees beyond shipping.
For over 50 years, the Rolling Stones have stood atop the pinnacle of rock and roll's upper-echelon.
Ushering in a new dimension of the "British Invasion," with timeless hits like "Brown Sugar," "Start Me Up," Satisfaction" and "Jumpin' Jack Flash," they've entrenched themselves into the annals of rock history with their rise from British obscurity to world-wide fame. In that time, they've released over two-dozen studio albums, over 100 singles and have won numerous awards and accolades.
The group, consisting of front-man Mick Jagger, guitarist Keith Richards, Charlie Watts and Ronnie Wood, would have been justified in enjoying the sweet serenity of retirement, having given their lives to the entertaining of their world-wide fan base. However, rather than resting comfortably for the remainder of their days, they are announcing the launch of a massive tour, cataloging their more than 50 musical years together.
U.S. performances for the "50 and Counting Tour" begin at the Staples Center in Los Angeles on an early May date yet to be announced, and wind up, June 18, at Philadelphia's Wells Fargo Center as currently structured. More dates may be added or possibly a return for stadium shows at a later time but as of this writing, these are the only Rolling Stones tour dates currently scheduled. Along the way, they will make stops in Oakland (May 5), San Jose (May 8), Las Vegas (May 11), Anaheim (May 15), Chicago (May 28) and Boston (June 12).
"There are popular tours every year, but this is The Rolling Stones we're talking about here. The Stones and their music are virtually ageless, judging by their late 2012 shows they still have tons of energy on stage and their songs have certainly withstood the test of time. There are fans from ages 8 to 80 going to these shows because, if you'll pardon the bad pun,'this may be the last time' they do a major tour," says Select-A-Ticket's Mark Gibbons.
About SelectATicket.com
Select-A-Ticket has been in business over 34 years as an experienced, trusted and secure ticket broker.
Select-A-Ticket sells tickets to Broadway, Concerts, Sports, and Family Events and is a proud member of the National Association of Ticket Brokers (NATB).
For a complete list of available tickets, go to http://www.SelectATicket.com or call 800-735-3288 to order tickets by phone.