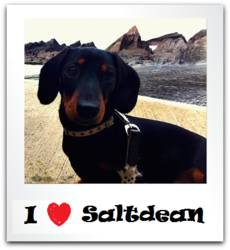 Children just love sausage dogs. Wherever Roly and I go there are always little people exclaiming 'Sausage dog!' to their parents when they see him.
Brighton, Sussex (PRWEB UK) 31 January 2013
Roly the Miniature Dachshund is an 8 month old male from Saltdean, a seaside neighbourhood on the outskirts of Brighton. Saltdean was once a thriving town and was home to the Butlins Resort "Grand Ocean Hotel" which has now been converted to a development of luxury apartments. The seaside town is just 5 miles from Brighton City centre and offers a more relaxed way of life and a stronger sense of community. Saltdean is also home to Saltdean Lido, an historical building which residents have campaigned for and saved from being turned into more apartments.
Roly lives with 29 year old Katie Sykes, a business woman from Sussex. "I have lived in Saltdean for 3 years and I love it here. It's a very dog friendly and child friendly area."
Roly has become somewhat of an attraction in his home town since he was a puppy due to his very small size and docile nature. Roly is often recognised by local residents and dog owners whilst he's out walking through Saltdean and the playing fields.
"I have always dreamed of owning a shop." Says Miss Sykes. "I have another business which I needed new premises for. When the shop became available, it was the perfect solution. I am able to run my current business I Say! Digital from the premises as well as using the shop to start a new retail business - Roly Poly's Little People."
Miss Sykes had the idea to name the shop after Roly when she realised how popular he had become with local children and residents. "Children just love sausage dogs. Wherever Roly and I go there are always little people exclaiming 'Sausage dog!' to their parents when they see him. There are a lot of young families in Saltdean but the closest shops for clothing, toys and baby supplies are in the City Centre. It can be a nightmare going in to the city for shopping especially with young children and pushchairs. I wanted to open a shop to save parents time and that children would love visiting."
With the help of Miss Sykes, Roly has been able to set up the high street shop, decorate it with bright colours and choose a variety of stock. He also has his own website for the shop which features his journal, and his own Facebook page.
Visitors to Roly Poly's Little People in Longridge Avenue are treated to free stickers, can take part in a regular colouring competitions and can stroke and say hello to Roly the dachshund. Miss Sykes also plans to hold music and story time in the shop later in the year. For the parents, there is a range of clothing from budget to designer for 0 - 36 months, and a selection of traditional wooden toys, baby products such as soothers and changing mats. All items can be ordered online via the website too.
"I have big plans for Roly Poly's Little People. The website is growing daily and I hope to use the shop not just to sell items but to create a real place in the community for parents and children to visit. There are some lovely nurseries and baby groups around here and I see Roly Poly's complementing these services."
The sense of community in Saltdean is strong, and Roly's new business venture has been well received. "The shop has only been open for 2 weeks but I have already met some great local parents and had plenty of well wishes from other local businesses."
Roly Poly's Little People is online at http://www.Rolypolysemporium.com and the Saltdean store is situated in Longridge Avenue and is currently open Saturdays 10 - 6pm. Roly Poly's Little People stock toys, accessories, clothes, shoes and baby products for children aged 0 - 5 years.