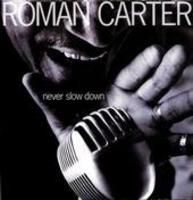 ... an eclectic, modernized Contemporary Blues outing showing Carter has plenty gas left in the tank.
Los Angeles, CA (PRWEB) October 25, 2007
Legendary blues, gospel and R&B vocalist Roman Carter and artist, producer, film composer Tom Rothrock have completed a unique studio collaboration: a recording project titled, 'Roman Carter 'Never Slow Down'. The full length CD release is due out on the recently relaunched independent Bong Load Custom Records label. In addition, the tracks have been made available for digital pre-release through iTunes, Napster, Rhapsody, EMusic and Amazon.
Roman Carter, part of the original R&B incendiary electric blues trio known as The Carter Brothers, has been singing passionately for over 50 years. That group, originally hailing from Garland, Alabama, had a #21 Billboard R&B hit in 1965.
On this new release, Carter is the featured vocalist and co-composer. 'Never Slow Down' marks a fine return to form as his first new solo vocal effort in well over three decades. Once presumed MIA or KIA after joining the military (due to falsified reports created by a disreputable record label), Carter is alive and well, residing near Los Angeles, refining his distinctive craft of fiery, gospel-tinged vocal delivery every week at church services.
A high octane duet featuring Carter and rootsy folksinger Johnny Irion will be the lead off radio single titled, 'Just A Little Too Fast'. Other very special guests include: vocalist Sweet Pea Atkinson, guitarist Smokey Hormel, drummer Joey Waronker, drummer Cedric Burnside, Pete Thomas, Slo-Mo Brenner, MC Random and harmonica ace Jimmy Wood. A video for 'Just A Little Too Fast' is also due to be released.
Featured together, Carter and Rothrock interviews are slated in upcoming issues of both No Depression and Living Blues music magazines. BluesCritic.com describes 'Never Slow Down' as, "... an eclectic, modernized Contemporary Blues outing showing Carter has plenty gas left in the tank." and continues, "The opening 'It's All Rite' combines a Delta Blues guitar hook, loping drums and Fred Wesley-style horn fills with Carter's throaty shout. It's a true butt wiggler that fans of late R.L. Burnside should go wild for."
More reviews of 'Never Slow Down' will run in music publications Blues Matters! (UK), In The Basement (UK), Real Blues (Canada), ABS Magazine (France) and Blues Revue (US).
Tom Rothrock is a seminal music producer (James Blunt, R.L. Burnside, Beck, Elliott Smith, Badly Drawn Boy, Richard Thompson, The Yonder Mountain String Band, Foo Fighters, The Toadies, Sloan, Elbow, Marie Digby) and also film soundtrack composer. His collaboration with Roman Carter follows the release of his own instrumental CD titled 'Resonator', also out on Bong Load. Rothrock's film and television credits include: Collateral, About A Boy, Good Will Hunting, Spy Game, SpongeBob Squarepants Movie and The Sopranos Original Soundtrack.
For all media, including interview requests, hi-res photos, film and television licensing inquiries, etc. please contact: GBL Media Management direct at 310.849.3183
About Bong Load:
Bong Load Custom Records first debuted in Los Angeles in 1991 and is known for having helped launch the careers of Beck, Fu Manchu, and several other influential Southern California artists. The label is most often credited with igniting Beck's ascent to multi-platinum, Grammy award winning status, after releasing his first commercial hit 'Loser' on a 12 inch vinyl single.
###