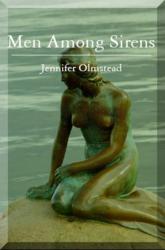 Both regions are distinctively beautiful, and provide the ideal backdrop for the subject matter and characters in Men Among Sirens
(PRWEB) July 17, 2009
Hampton Roads, Virginia Virginia author Jennifer Olmstead has published her debut novel, Men Among Sirens, through Booksurge Global Publishing Services. The contemporary love story is set in Virginia Beach, Virginia and Michigan's Upper Peninsula, and is now available in hardcover and trade paper formats at amazon.com, target.com and select retail locations.
"Both regions are distinctively beautiful, and provide the ideal backdrop for the subject matter and characters in Men Among Sirens," the author explained. "I don't think the story could have taken place anywhere else. The Upper Peninsula, especially, is an unknown jewel to most outsiders. I hope the book reflects, at least to some degree, the unique quality of that region. Virginia Beach is seen by the world as a summer beach town--a tourist destination, but to most residents, the heart of the area is actually its dedicated military presence. Aircraft carriers and fighter jets are constant reminders of the human element at risk in conflict--the fragility of life. The characters in Men Among Sirens are touched by these issues."
The discovery of an explosive family secret launches bride-to-be Ruby Bohan and her mother, Ainsley, on an emotional, twenty-year journey of love, loss and redemption, traversing Michigan and southern Virginia and stirring the question: Should sins long forgotten be forgiven?
Men Among Sirens opens several days before the marriage of a young Virginia woman named Ruby Bohan. While making final preparations for her wedding, Ruby stumbles upon a decades-old secret with the potential to devastate her entire family--including her disabled father and favorite adoptive uncle. Ruby's confrontation with her mother, Ainsley, forces Ainsley to reveal the true story of her own past, beginning twenty years earlier with a troubled marriage, the tragic death of her brother, a U.S. Navy fighter pilot, and an illicit encounter, all of which take place between Virginia and the family's summer home in Michigan. Once Ainsley's story is complete, the Bohan family tree is shaken to its roots, and the burden of truth passes from mother to daughter. Ruby's happiness, and that of the people she loves, rests in her youthful hands. She has three days to decide how to act on her newfound knowledge, and her choices will either hold her family together or tear it apart--and, perhaps, in the process, give her mother one last chance at love.
Warning: Reading Men Among Sirens may restore your faith in the power of love, cause you to question some of the leaves on your own family tree, or result in a sudden craving for an I LOVE JET NOISE sticker, a pasty, some Trenary Toast, or a trip to Kitch-iti-kipi, even if you're not quite sure what any of these things are--yet.
Jennifer Olmstead was born in Danville, Pennsylvania and educated at Chatham College and the University of Pittsburgh. A former non-profit marketing executive, she lives in rural Virginia.
To contact the author, call 757.403.2617 or visit: http://www.jenniferolmstead.net for more information.
Men Among Sirens: Trade Paper ISBN-13: 978-1439236840 / ISBN: 1-4392-3684-4
Hardcover ISBN-13: 9781439242764 / ISBN: 1-4392-4676-9
LCCN-2009904613
###