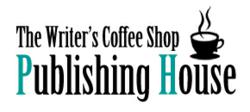 Arlington, Texas (PRWEB) October 25, 2012
The Writer's Coffee Shop CEO and founder, Amanda Hayward, started the company with the idea of bringing readers and writers together. In the two years since TWCS launched, she has succeeded in bringing an independent publishing house into the mainstream with books like "Immortal" by Gene Doucette and "Wellesley Wives" by Suzy Duffy. "We have all been blessed with the success of our business. It's something I hope to continue for many years to come," says Mrs. Hayward of the publishing house's successes.
Meeting and exceeding the founding milestones she created, Ms. Hayward and staff have decided the time is right to get their books into even more markets. "The e-book market will always be our foundation. We're an online business, and e-books are our main product," Ms. Hayward says but is also quick to point out "that doesn't mean we don't also love our print books. With our new distribution and printing resources, we're able to bring our customers a print book of the highest quality but a fair and low price."
As The Writer's Coffee Shop continues to evolve, readers should get ready to see their novels in bookstores and websites across the globe. This is a publishing house that has the means and the desire to bring their customers exactly what they're looking for: great books with outstanding quality, and a price that won't kill your bank account.
About the Publisher:
The Writer's Coffee Shop Publishing (TWCS) House is an up-and-coming independent publisher based in New South Wales, Australia. They recently gained a great deal of attention when they published "Fifty Shades of Grey," the international literary sensation released in June, 2011 now represented by Random House.
Launched in October, 2010 with the vision of working alongside talented authors while providing quality e-books to the growing marketplace, TWCS publishes a wide range of fiction titles sure to have something for any literary appetite.
Website: http://ph.thewriterscoffeeshop.com/