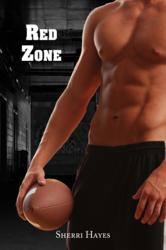 "...for a good suspense, action, sexy, sports romance, you can't do much better. Stunningly hot and just plain enjoyable to read."- delightedreader.com
Columbus, OH (PRWEB) February 05, 2013
As Nashville's star quarterback, Red Zone's Gage Daniels has it all: the big house, adoring fans, a wonderful family…not to mention throngs of women throwing themselves at him wherever he goes.
But when a crazed stalker enters the picture, Gage's life is quickly turned topsy-turvy as he's paired up with Rebecca Carson, a beguiling, ambitious and fiercely independent FBI agent posing as his girlfriend – which she couldn't begrudge more. After all, as far as Rebecca is concerned, football is a kid's game and Gage is a notorious player…on and off the field. She is, to say the least, unimpressed with her current 'assignment'.
But are things – or rather, Rebecca and Gage – not quite as they first appear?
Sparks fly in Sherri Hayes Red Zone [The Writer's Coffee Shop Publishing House] with the unlikeliest of romances blossoming between Rebecca and Gage as a high-stakes game of cat-and-mouse unfolds around them. With threats to one of America's favorite football star's life – and his affection for and attraction to his FBI protector – intensifying page by page, Red Zone is an electrifying love story with twists that no one will see coming.
A departure from Hayes' popular, super-sexy and controversial Finding Anna series, in the author's words, "Red Zone is a story about the old saying: opposites attract, and love conquers all. Gage and Rebecca can fill a need for each other – but only if they're willing to open themselves to the possibility of love and accept it."
Equal parts nail-biting mystery and red-hot romance, Red Zone explores:

When ying meets yang: the pain and pleasure of opposites attracting
True love in all of its madness and power: do soulmates really exist?
The inner life of a football hero: for all his machismo and charm, could it be that Gage is really the one trying to find true love?
Family dynamics, for better or for worse: knowing when to overcome – and when to embrace – the past
Vulnerability and the modern woman: leaping into the great unknown to experience all the joy that life has to offer
About the Author:
Sherri Hayes is the author of The Daniels Brothers' series, which debuted with Christopher Daniels' story in Behind Closed Doors (February 2012) and now continues with the story of Christopher's brother, professional football player Gage Daniels, in Red Zone (February 2013).
Hayes is also the author of the Finding Anna series, a four part erotic romance captivating readers worldwide - the highly anticipated third installment of which, Truth, is set for release in summer 2013.
Red Zone will be available for purchase in both paperback and e-book formats on February 7, 2013. It is currently available for pre-order via The Writer's Coffee Shop Publishing House.
Find Sherri Hayes on The Writer's Coffee Shop Publishing House and her website.
About the Publisher:
The Writer's Coffee Shop Publishing (TWCS) House is an up and coming independent publisher with bases in Australia and Texas. They recently gained a great deal of attention with Fifty Shades of Grey, the international literary sensation they released in June 2011 which is now represented by Random House.
Launched in October 2010 with the vision of working alongside talented authors while providing quality e-books to the growing marketplace, TWCS publishes a wide rage of fiction titles and is sure to have something for any appetite.
Website: http://ph.thewriterscoffeeshop.com/