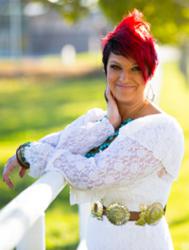 Jen Greyson and Salt Lake City's first Microsoft store will host a launch party for her debut novel, Lightning Rider, on May 31st from 7:00-8:30 p.m.
Salt Lake City, Utah (PRWEB) April 30, 2013
With the fate of traditional bookstores hanging in the balance, debut author Jen Greyson decided to look toward the future when planning her release party for Lightning Rider.
"Evy's story in Lightning Rider centers around altering the future and embracing change, so I wanted my release party to do the same," says Greyson. "Books aren't about old, dusty shelves anymore; they're about new, exciting Surface tablets, Kindles, and iPads. But what Microsoft really helps me accomplish with this fully electronic launch is a fun way to get a great story into the hands of my readers how, where, and when they want."
The Lightning Rider e-book release party is set for Friday, May 31st from 7:00-8:30 p.m. at the new Microsoft Store in Salt Lake City's premiere City Creek Mall. There will be refreshments, door prizes, and swag bags, which will include discount cards courtesy of Microsoft. Author Jen Greyson will be utilizing the store's 163-inch touchscreen for a multi-media presentation at 8:00 p.m. Ms. Greyson will also be available for interviews and would love to discuss topics including:

the e-book revolution and how she decided on her fully electronic launch
her choice to go with The Writer's Coffee Shop Publishing House—the independent publisher that first brought the world Fifty Shades of Grey
empowered female lead characters and what we can learn from them
the response to her Latina lead character
Lightning Rider Summary:
Heiress to a time-traveling dynasty, Evy Rivera is finally claiming her birthright as a lightning rider. Problem is, she's forced to learn it alongside Constantine, a prickly, obstinate Roman warrior who constantly challenges her to be the woman he sees in her.
Thrown back into ancient Spain, Evy must rely on guts and instinct to wield her lightning as a weapon and outsmart Ilif, her quasi-mentor who believes time traveling should be left to the Rivera men.
During her training, Evy and Constantine battle the push-pull of their explosive relationship, aware the two-thousand-year span between their lives is an unavoidable hurdle.
Caught between a centuries-old battle rife with secrets, Evy must learn whom to trust before she risks everything and the wrong history repeats itself. When the heritage her parents have suppressed mingles with the past, Evy must find answers.
Which history is the right one? And who is she becoming?
About the Author:
From the moment she decided on a degree in Equestrian Studies, Jen Greyson's life has been one unscripted adventure after another. Leaving the cowboy state of Wyoming to train show horses in France, Switzerland, and Germany, she's lived life without much of a plan, but always a book in her suitcase. Now a wife and mom to two young boys, she relies on her adventurous, passionate characters to be the risk-takers.
Jen also writes university courses and corporate training material when she's not enjoying the wilds of the west via wakeboard or snowmobile.
About the Publisher:
The Writer's Coffee Shop Publishing (TWCS) House is an up-and-coming independent publisher based in New South Wales, Australia. They recently gained a great deal of attention with Fifty Shades of Grey, the international literary sensation they released in June 2011, which is now represented by Random House.
Launched in October 2010 with the vision of working alongside talented authors while providing quality e-books to the growing marketplace, TWCS publishes a wide range of fiction titles and is sure to have something for any appetite.
Website: http://ph.thewriterscoffeeshop.com/