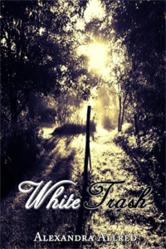 "In White Trash the quality of the writing stands out from the first page. Like Harper Lee immortalizing her home town, the good and the bad, Alexandra Allred vividly describes the people of Granby, white trash or not." -Clare O'Beara with FreshFiction.com
Arlington, Texas (PRWEB) June 04, 2013
"Oh, what a cute little niglet." Those six little words are the inspiration behind Alexandra Allred's latest novel, White Trash. Allred had recently moved to a small Texas town when she overheard this comment while shopping in a local store. "Later, I stewed over it,' recalled Allred. "What if that couple heard the remark? What if they thought I said it? What if the little girl heard it? And most remarkably, I couldn't believe that the comment was made as a compliment. I was just so upset about it that I began to ask coworkers, friends, and neighbors if they had ever heard the word before. The vast majority – black and white – merely chuckled. Yes. They had. While most just shrugged it off, I just couldn't, and I wrote White Trash in 22 days. It's the fastest I have ever written anything of that size and importance."
Allred is no stranger to controversy. Her first novel, Damaged Goods, was an emotional and surprisingly funny look at how big business is destroying the health of people in her small Texas town. In White Trash, she turns her focus from environmental to social, all while keeping her signature wit and charm. No topic is off limits. White Trash explores racism, domestic violence, gun running, drug abuse, and the underlying theme of hypocrisy that sometimes runs rampant in small town USA.
Allred is an entertainer with purpose. She has a gift for combining socially important issues with her outrageous sense of humor to create novels that make readers laugh out loud as well as make them think.
White Trash Summary:
When Thia Franks returns to her hometown of Granby, Texas, the very place to which she'd vowed never to return, Granby's worst and best elements force the new single mother to face both her past and her destiny.  At first, it seems that nothing has changed: Chester Kennedy's goats continue to run rampant through the town; Officer Tina Wolfe stands accused of racial profiling the growing Hispanic community; Thia's gun-wielding neighbor believes a squirrel has it in for her; and the town's local newspaper owner prints only what she believes the citizens should know. But when a young black man—an upstanding and popular citizen of the small, east-central Texas town—is brutally murdered, everything changes. Everyone is being watched. Everyone is being judged.
About the Author:
Alexandra Allred's writing career began following a stint on the U.S. women's bobsled team. After being named "Athlete of the Year" by the United States Olympic Committee, she became an adventure writer. While writing for a variety of national publications, she test drove the Volvo Gravity Car, donned a dog attack suit, played professional women's football, and even outran a beefalo mix (that's a buffalo/cow mix to you city folk).
She turned to fiction writing using her rural Texas homestead as fodder for storytelling. When not writing, she lobbies for healthy children. Allred lives outside Dallas, Texas, with her husband, children, and a plethora of animals.
Connect with Alexandra Allred
Facebook: https://www.facebook.com/alexandra.allred.3?fref=ts
Website: http://allredbooks.com
Twitter: @alexandraallred
About the Publisher:
The Writer's Coffee Shop Publishing House is an up-and-coming independent publisher based in New South Wales, Australia. They recently gained a great deal of attention with Fifty Shades of Grey, the international literary sensation they released in June 2011 and is now represented by Random House.
Launched in October 2010 with the vision of working alongside talented authors while providing quality e-books to the growing marketplace, TWCS publishes a wide range of fiction titles and is sure to have something for any appetite.
Connect with The Writer's Coffee Shop
Website: http://ph.thewriterscoffeeshop.com/
Facebook: http://www.facebook.com/pages/TWCS-Publishing-House/119328354791583
Twitter: @twcs_pubhouse