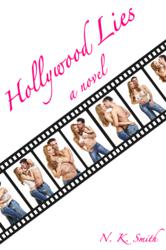 Cincinnati, Ohio (PRWEB) June 20, 2013
It happens (almost) every day: a Hollywood power player plucks a young actor from obscurity, sets the publicity machine ablaze, and rakes in the box office profits. Suddenly, they're everywhere: photographs of friendly lunches manipulated into evidence of sexually charged trysts, every move documented and analyzed, their glamorous jet set relationships with co-stars beginning and ending as quickly as the weekly tabloids go to print.
In N.K. Smith's Hollywood Lies, the forthcoming erotic romance release from Fifty Shades publisher The Writer's Coffee Shop Publishing House, this is where our story begins – but there's more to the Hollywood game than meets the eye. And this is something that the world's newest teen dream stars, Liliana Addison and Devon Maddox, have to learn the ropes of all too quickly.
A former child star, Liliana has, up until now, had only a small taste of the heady and intoxicating force that is fame – a taste that's created in her an unshakeable drive to get to the top. Devon, an out of work actor, has never dreamed of anything but making it big – and now, under the tutelage of influential Hollywood actor and director Colette Stroud – his lifelong dream is well on its way to becoming his reality.
Sparks fly between Colette and Devon…but the studio has other plans. When a fictitious relationship is concocted between Devon and Liliana to launch their latest film and both of them into the A-list, the trio must learn to navigate a fine line between Hollywood lies and genuine passion on the most important red carpet walk of all of their lives.
"As complex as love and sex can be for anyone, Hollywood Lies tells the tale of just how difficult those things can be when the whole world is watching," says Smith of her eighth novel. "At the end of the day, it's a story about human connection – albeit in a world that most of us will only ever experience through the other side of the looking glass."
A ripped-from-the-headlines love story that will pull back the velvet curtain and reveal to readers what the up's and down's of fame and fortune are really like, Hollywood Lies explores:
Tinseltown and tabloid culture: the clever deceptions and ugly truths ever-present within the pages of your favorite weekly glossy
The sacrifices of stardom: are fame and fortune the easy road we so often perceive them to be?
True love, no-holds-barred passion, and the real connections that can be found even in the most superficial of worlds
Hot sex that doesn't involve whips, chains, or subversion: vanilla as the new rebellion in today's erotic romance marketplace
About the Author:
N.K. Smith is the author of the Old Wounds series, and Hollywood Lies is her eighth novel. A technical writer for a Fortune 100 company and mother of two by day, she finds the time to write very early in the morning while the rest of the world is still fast asleep. An avid lover of history, art, music, books, and people, Smith is interested in telling stories that speak to the human condition.
Hollywood Lies is available via all major online retailers and select brick-and-mortar booksellers as of June 20, 2013.
About the Publisher:
The Writer's Coffee Shop Publishing (TWCS) House is an up and coming independent publisher based in New South Wales, Australia. They recently gained a great deal of attention with Fifty Shades of Grey, the international literary sensation they released in June 2011 and is now represented by Random House.
Launched in October 2010 with the vision of working alongside talented authors while providing quality e-books to the growing marketplace, TWCS publishes a wide range of fiction titles and is sure to have something for any appetite.
Website: http://ph.thewriterscoffeeshop.com/