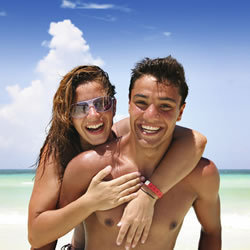 Long Beach, CA (Vocus) August 13, 2009
LuvTrip.com, a new niche player in the travel industry, will provide planning and self-booking for romance travel. Highlighted worldwide events are Honeymoons, Destination Weddings, Weekend Getaways, Anniversaries, and Romantic Adventures. Their guiding business model is Travel Excellence, Value, and Customer Satisfaction. The target market ranges from high-end luxury trips in romantic, exotic settings to local and regional USA getaways at bargain, discounted prices. All rates are guaranteed to be best rates available online at time of booking.
The website emphasizes romantic destinations; romantic hotels, resorts and spas; specialty cruises; and intimate, cozy, and romantic B & B's. Planning topics will include tips on romantic ideas; booking a romantic room; and setting the atmosphere with the right sensual amenities including clothing, mood enhancers, romantic dining, settings, and music. A personal Romance Travel Profile form (pdf) and Budget form (pdf) will assist couples in selecting the destination, accommodations, and activities that meet their personal needs and budget.
Articles on Romance Travel and Destinations will be featured with each destination broken down into the best in Romance, Dining, Activities & Attractions, Spas, Accommodations, and Destination Wedding Venues. Photos and Videos will accompany each major destination. Couples will be sharing their real life adventures, the romantic things they did, what they liked best, and what they did not like. Reviews and Ratings for romantic destinations and accommodations are in the beginning stages. A Romantic Travel Blog is up and waiting for your input and reading.
LuvTrip.com utilizes the discount self-booking Travelocity World Choice Travel System which searches for the best hotel, air, car, amenity, activities and package deals best matching a couple's profile. The website is currently up and running, and available for couples who knowing their destination want to search for the best hot, affordable romantic travel deals that accommodate their needs and budgets. A complete initial build-out is expected by October 2009 for those needing full planning services. Personal Planning will be available by staff on a fee basis to include assistance in selecting a destination, accommodations, and activities, including a planned concierge service for those who want the best and do not have or choose not to invest the time in travel details.
To check out this new travel start up, visit LuvTrip.com, and stay tuned for more travel adventures.
###