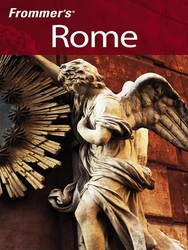 Roman Reference is the best all-around apartment rental agency in Rome. Their no-surprises property descriptions practically read like insurance inventories, and even include the "eco-footprint"for each apartment. You can expect transparency...
New York, NY (PRWEB) February 22, 2010
Frommer's Guide doesn't really need presentation. Since the 1957 publication of Arthur Frommer's revolutionary Europe on $5 a Day, the Frommer's collection of travel products has expanded to include over 300 guidebooks, reaffirming Frommer's as the most trusted name in travel today.
Pauline Frommer recent article on 5 Italian Companies to Consider featured Roman Reference Vacation Rentals' website in her top 5. They also note Roman Reference as the only vacation rental agency on the list to focus on hospitality and accommodation in Rome.
Roman Reference has been a leading Vacation Rental company in Rome since 1997. Based in Rome, Italy it grew global in 2006 by adding 10 more vacation rental destinations within the Cities Reference network.
It now provides choice Vacation Rental Apartments in the following destinations

ParisReference.com - Rental flats and apartments in Paris, France
CopenhagenReference.com - Vacation Rental Apartments in Copenhagen, Denmark
BerlinReference.com - Vacation Rental Apartments in Berlin, Germany
BarcelonaReference.com - Vacation Rental Apartments in Barcelona, Spain
MadridReference.com - Vacation Rental Apartments in Madrid, Spain
LondonReference.co.uk - Holiday Rental Homes in London, United Kingdom
MiamiReference.com - Vacation Rental Condos and Villas in Miami, United States of America
NewYorkReference.co.uk - Vacation Rental Flats and Apartments in New York City, United States of America.
Pauline Frommer remarks how there are plenty of listing websites for Italian destinations, yet using a based agency provides "the security of dealing with an experienced rental agent (who can step in if things go wrong)".
Roman Reference, as well as Paris Reference, ensure such an assistance. Although Cities Reference as a whole doesn't provide as yet full assistance in every other city, it will however always answer to your calls and emails whenever our help is needed.
Roman Reference attributes its success to its easy to use booking system, open access to user generated feedback to renters and owners, its customer assistance and its culture of transparency.
For more information:
Roman Reference
Via dei Capocci, 94
00184 Rome, Italy
tel 00380648903612
http://www.RomanReference.com
Blog: blog.romanreference.com
###