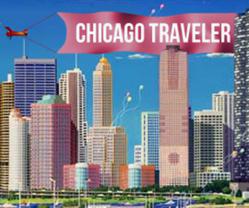 Chicago, Illinois (PRWEB) May 17, 2013
Chicago is the perfect city for a romantic getaway. From the beautiful skyline and the magnificent waterfront to the fantastic food in a city oozing with culture, there are a ton of places to go on a first, second or hundredth date in Chicago. Make this an extra special trip and treat your someone special to an unforgettable date this summer! ChicagoTraveler.com announces 10 unique and fun date ideas for a romantic getaway summer 2013.
1. Book a Chicago Hotel for the Weekend.
Find a fantastic room with a view, a hotel with spa treatments, and one that's conveniently located near all the romantic things to do in Chicago this summer. Magnificent Mile hotels are a great choice for romantic getaways, as many are located near world-class shopping, dining and famous attractions you won't want to miss. Check out the current Chicago hotel packages that often include special services like spa treatments, shopping deals, VIP attraction tickets and more.
2. Chicago Festivals This Summer
All summer long there are going to be great festivals, concerts, holiday celebrations and farmers markets that will be fun to attend together. Music lovers won't want to miss the Millennium Park Music Series which runs from the end of May to the end of August, the Chicago Blues Festival (June 6-9) or the Chicago Jazz Festival at the end of August. Learn some new moves with a free 1-hour dance lesson at Chicago SummerDance from late June - mid September, Thursday to Sunday evenings in Grant Park. Bring an appetite for the Taste of Chicago festival, July 10-14, or take a later vacation and catch the annual Chicago Air and Water Show on August 17th and 18th.
3. Chicago Fireworks Cruises
There's nothing quite as romantic in this city than being on the beautiful waters of Lake Michigan or the Chicago River on one of the fabulous cruises. What makes an evening like this even more special is a cruise during the Navy Pier fireworks shows this summer. Bring along a camera and a sweater for one of these tours, and then hop on the Navy Pier ferris wheel for another fantastic view.
4. Drinks with a View
ROOF at the Wit Hotel, Terrace at the Trump, the Vertigo Sky Lounge and Zed451 are all top choices for cocktails on a rooftop bar in Chicago this summer. Another classic spot for drinks is The Signature Room at the 95th in the John Hancock Center. Expect beautiful views, delicious drinks and a romantic ambiance at any of these bars this summer.
5. Breathtaking views on Chicago Helicopter Rides
While there are many ways to enjoy the views of Chicago, helicopter rides are the only way to get this aerial experience one evening. Enjoy the most unforgettable sunset from a sweet helicopter, or watch the twinkle of the lights from the skyscrapers on a ride one evening.
6. Sporty and Fun
Not so romantic as seeing the dazzling city sights, but baseball games in Chicago are definitely fun. Take an evening the summer and head to Wrigley Field or the US Cellular Field to catch a Chicago Cubs or White Sox game. Cheer on the teams, grab a few beers and enjoy a delicious ballpark hot dog for an entertaining and playful evening.
7. Adler After Dark
Enjoy the museum by day, or come on the third Thursday of each month for the special 21+ event at the Alder Planetarium. A night at Adler After Dark includes access to the museum and all of the sky shows scheduled that night, a look through the largest publicly accessible telescope in the Midwest, the Doane Observatory, and drinks at the cash bar. The event runs once a month from 6:30pm to 10:30pm, and it's a perfect opportunity for some adult time in Chicago.
8. Take a Limo Ride Around the City.
Rather than taking a taxi or public transportation everywhere, or looking for parking in the city, book one of the limos in Chicago for a care-free evening! Many of these limos offer special rates for events this summer, so they're often more affordable than one might think!
9. See a Show
Many of the theatres in town will have shows playing a few weeks (and sometimes a few months) at a time! Check out the Chicago theatre events schedule to see what's playing while you're here.
10. Check Out Millennium Park at Night
Everything in this park looks great at night, and summer nights are a wonderful (and warm) time to walk through the park and see the attractions lit up. Catch the lights and water show at Buckingham Fountain, the famous Chicago Bean reflecting the sparkling buildings, and concerts throughout the summer in the park. One fun way to see this park is on a Chicago bike tour at night!
About ChicagoTraveler.com:
Chicago is one of the top vacation destinations in America famous for their annual events, popular foods, architecture and top sports teams. ChicagoTraveler.com guides travelers to all the best things to do, top places to eat and deals on the best places to stay in Chicago.Lizz Riggs, editor of ChicagoTraveler.com, can help travelers find all the best things to do, places to stay and deals to take advantage of on their next trip.