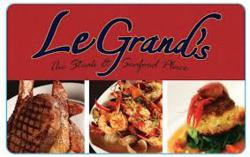 A couple searching for affordable entrees can now take advantage of the new menu available.
Jacksonville, Florida (PRWEB) January 30, 2013
Dinner for two at a great restaurant can be inexpensive if a couple knows where to eat. LeGrand's in Mandarin is now offering affordable steak and seafood entrees for casual visits or romantic dinners. The updated new dinner menu is now a combination of Signature LeGrand items as well as newer additions created specifically from suggestions from the culinary staff. A couple searching for affordable entrees can now take advantage of the entrees available. More information can be obtained by visiting LeGrand's Steak & Seafood online.
According to a recent Jacksonville Business Journal review, the average price for an entree in an average steakhouse in North Florida is between $19 and $76. These prices are an overview of the more than 200 restaurants that now exist within the city limits.
One of the incentives that are now offered to guests at LeGrand's is the lower than average prices. The new 10 ounce steaks are priced below these averages to make dining out more affordable for men and women.
Most busy restaurants require a reservation system to be put into place due to the demand for quality cuisine on a daily basis. One of the new additions to the LeGrand's Steak & Seafood website is an online system for reservations.
This new system is designed to accomplish two things for all guests. The first is to ensure accuracy in the reservations. The data is entered electronically and used directly from the reservation system. This eliminates mistakes in copying the information. The second is to ensure the proper amount of expert staff is on hand during peak times. The new reservation system can be accessed entirely online or phone calls can be made to 904-268-FOOD.
Guest services, management or media inquiries can be sent directly to LeGrand's using the following contact information:
LeGrand's Steak & Seafood
11290 Old St. Augustine Road
Jacksonville, FL 32257
(904) 268-3663
About LeGrand's Steak & Seafood
The LeGrand's Steak and Seafood restaurant has joined the ranks of some of the finest establishments in the North Florida area. The summer of 2012 opening of this company has helped to introduce the quality cuisine, expert staff and friendly atmosphere to the locals and tourists who frequent this restaurant daily. By putting together a menu of popular foods, LeGrand's has been able to attract individuals, business owners, families and nonprofit groups. LeGrand's Steak & Seafood offers affordable brunch, lunch and dinner prices to make eating out less expensive for guests. With a passionate and friendly service staff, this restaurant has expanded quickly.