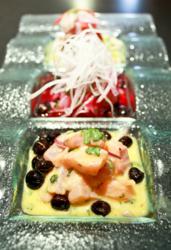 My goal is to combine the excitement and energy of Latin American cuisine and décor with a modern, urban flavor
San Francisco, CA (Vocus/PRWEB) March 29, 2011
The newly opened Modern Latin Cuisine restaurant features seven different ceviche variations including Ahi tuna with passion fruit, Pacific cod with prickly pear mojito juice and Maine lobster with vanilla bean oil.
Pasión Modern Latin Cuisine prides itself on its colorful décor, fusion of Latin flavors and attentive service. However, it is their all-encompassing ceviche bar that really sets them apart. The bar allows guests to watch the chefs combine the fish, shellfish, fruits and vegetables in their signature Central and South American seafood dishes. There are seven types of ceviche on the menu, as well as three to four ceviche samplings.
"Our server brought us to our cozy table by the ceviche bar where we got to watch first-hand how the ceviche was being prepared and served," said Pasión customer Carol. "The atmosphere was wonderful, and surprisingly calm amongst all the chatter and mid-tempo music. The ceviche was delicious, but everyone already knows that about this place."
Pasión's ceviche menu is as varied as it is delicious. Their "Ceviche ¡Pasión!" is a mix of Ahi tuna, salmon, passion fruit, and purple corn. "Ceviche Julianna" is made with Pacific cod and prickly pear mojito juice. Maine lobster, mango and vanilla bean oil make up the "Ceviche de Langosta." And the "Ceviche de Camarón" includes a blend Ecuadorian shrimp, avocado mousse and yucca.
Jose Calvo-Perez, head chef and co-founder of Pasión, creates his dishes using the best of the exquisite flavors and techniques of traditional Latin America cuisine with a modern twist.
"My goal is to combine the excitement and energy of Latin American cuisine and décor with a modern, urban flavor," said Calvo-Perez.
The 60-seat restaurant brings the enthusiasm and liveliness of South American, Central American and the Latino Caribbean, pulling influences from Peru, Argentina, Uruguay, Brazil, Mexico, Puerto Rico, Cuba and Spain.
As a romantic restaurant in San Francisco, Pasión offers the perfect opportunity for couples to try the different, exotic tastes of ceviche together.
For more information about Pasión Restaurant, phone them at (415) 424-4656, view their website at http://www.pasion-sanfrancisco.com, or visit their restaurant located at 737 Irving Street, between 8th and 9th in San Francisco's Inner Sunset District.
About Pasión Restaurant
Pasión Restaurant is an energetic yet romantic restaurant that specializes in modern Latin cuisine in San Francisco. The owner and executive chef, Jose Calvo-Perez, is well known for his three locations of award-winning Peruvian restaurant Fresca. Pasión specializes in ceviche and artfully prepared seafood, beef, chicken, lamb and duck dishes. Seafood specialties include Ahi tuna, shrimp, calamari, oysters, mussels, and clams. Dinner service begins at 5:00 pm, daily. The restaurant is closed on Tuesdays.
###