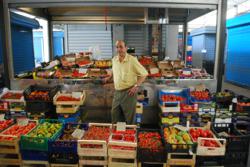 Eating Italy Food Tours offers tourists a taste of local culture and cuisine.
Rome, Italy (PRWEB) September 29, 2011
Groves of tourists flood into Rome every year looking to gobble up heaping portions of ancient history and authentic Italian food. Sadly, many end up with a much different experience that includes being guided around the historic center en mass as part of a large walking tour and dining off of fix tourist menus that serve generic Italian fare rather than anything that resembles authentic Roman cuisine.
Eating Italy Food Tours offers tourists a taste of local culture and cuisine. The company takes groups by foot around the neighborhood of Testaccio, a colorful Roman neighborhood that has been relatively untouched by the expanding imprint of tourism. Owners Kenny Dunn, an American ex-pat, foodie and Testaccio resident, and Riccardo Grande, a local Roman chef, started Eating Italy Food Tours, after Dunn went on a life-changing pizza tour in New York City in 2009.
After ten months of research and many late nights debating which of the dozens of foodie treasures should be included, The Real Taste of Rome Food Tour launched in June 2011. Each tour includes seven food-tastings from a variety of different food places including fresh market stalls, gourmet food stores, bakeries, restaurants, and gelato shops. What separates Eating Italy Food Tours from some of the other culinary tours in Rome is the additional focus on local culture and history. Every tour includes a giant serving of offbeat historical and cultural landmarks many of which directly connect to Rome's unique food history dating back to the Roman Empire.
The food portion of the tour is not only designed to feature where to eat in Rome, but also to open peoples' eyes to the regional diversity of Italian food with a strong focus on the history and preparation of traditional Roman cuisine. Participants also learn the histories of the different food establishments that are visited on the tour, most of which are family-owned businesses. "One of the most gratifying aspects of the job is to share the stories of remarkable local people that have been creating these fabulous food delicacies for decades if not generations…they may not be Michelin Chefs but they are culinary heroes in their own way" says Dunn.
One of these local heroes is Carmelo D'Agostino, a tomato vendor that works in the famed 97-year old Testaccio Covered Market. Mr. D'Agostino carries over 45 varieties of tomatoes, and according to Dunn is known throughout Rome simply as the "Tomato Poet." It is explained on the tour that when shopping from Mr. D'Agostino that he does not ask his customers what tomatoes they want to buy, but what dish they would like to prepare. Mr. D'Agostino then methodically walks around his overflowing stand and hand picks the combination of tomatoes that will infuse that dish with the perfect flavor. It is hard not to marvel as he carefully contemplates every single selection.
More and more travelers looking for things to do in Rome are seeking an authentic cultural experience. Travel experts like Rick Steves, have gained a loyal following in the United Sates for his championing a kind of travel that encourages people to get off the main tourist path. In Rome, that is often hard to do. While there are nearly 200 different tour companies only a handful take people out of the historic center and into local neighborhoods like Testaccio. This is what makes Eating Italy Food Tours so unique. According to Dunn, "unless you have friends that live in Rome, its hard to explore a lot of the city's hidden treasures due to the language barrier, we wanted to find a way to make a more authentic Roman experience accessible to people that don't speak Italian."
The Real Taste of Rome Tour has also attracted many local ex-pats and even a few Romans. "To discover that one of the places that you have walked by a million times before actually has a fascinating story behind it is pretty cool. Locals also have the benefit of returning later with their friends to all the historical places and foodie spots that we visit on the tour only this time they can play the tour guide," says Dunn.
While Eating Italy Food Tours, is still rather new, the early feedback seen on the user-review giant, Trip Advisor has been glowing. One couple called the tour "One of the highlights of our honeymoon!" That is quite an endorsement.
With so many guidebooks, travel blogs, and review sites like Trip Advisor out there today, people are more informed than ever before and now more of them are seeking a different kind of tourist experience. Combining a tour through an off-the-beaten path neighborhood with seven authentic Roman delicacies appears to be a perfect alternative.
The Real Taste of Rome Tour is offered from Monday through Saturday all year long. To purchase tickets visit Eating Italy Food Tours' website, http://www.eatingitalyfoodtours.com. You can follow their blog at http://www.eatingitalyfoodtours.com/blog/ which is updated regularly with interesting and often humorous stories covering all aspects of Rome's food scene as well as culinary travel adventures from all over Italy.
###