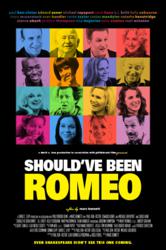 Los Angeles, CA (PRWEB) April 18, 2012
It has been announced that the independent dramedy feature film, "Should've Been Romeo," will hold its world premiere during this year's 2012 Newport Beach Film Festival. The screening will take place on Saturday, April 28th at 8:00 PM as one of the festival's spotlight films in the historic, Lido Theatre (3459 Via Lido, Newport Beach, CA 92663) with cast members in attendance.
The film, from director Marc Bennett, features an eclectic ensemble cast lead by Paul Ben-Victor ("Entourage," "The Wire,") alongside Ed Asner ("Too Big To Fail," "UP"), B.J. Britt ("Everybody Hates Chris"), Evan Handler ("Sex and the City," "Californication"), Natasha Henstridge ("The Secret Circle," "Species,"), Carol Kane ("The Princess Bride"), Tina Majorino ("Veronica Mars," "Napoleon Dynamite"), Costas Mandylor ("SAW III, IV, V, VI, 3D"), Mary McCormack ("In Plain Sight," "Private Parts"), Kelly Osbourne ("Fashion Police"), Michael Rapaport ("Hitch," "True Romance"), Kelly Stables ("Two and a Half Men"), Renee Taylor ("Alfie"), Jordenn Thompson ("Good Deeds"), Alanna Uback ("HUNG," "Bad Teacher") and Matt Winston ("Little Miss Sunshine," "Fight Club").
"Romeo" tells the story of 'Joey,' (Ben-Victor) a self-centered, middle-aged pitchman for a potato chip company who loses his job and his livelihood just as his octogenarian grandfather (Asner) is dropped on his doorstep unexpectedly by his mother (Kane), on her way to a singles cruise. With his life and livelihood in turmoil, he receives a visit from 'T.J.' (Britt), a handsome young black man with his little daughter, 'Billie' (Thompson). 'Joey' must deal with the news that 'T.J.' may be his son (and 'Billie' his granddaughter) from a long-ago relationship with 'T.J.'s mother.
The script was penned by Ben-Victor, Leah Kornfeld Friedman and Greg Ferkel with the story by Michael Goldberg. The feature was produced by Paul Ben-Victor and Greg Segal, co-produced by Patrick Stapleton with associate producer Robert Novak and executive producers David & Donna Levy and Eric Cusimano.
Casting directors for this project were Mary Vernieu and Lindsay Graham with Tom Richmond as the director of photography and music by Geoff Zanelli. Sales Representative for the film is Reder & Feig LLP, Glenn D. Feig and Noor Ahmed.
Official Website: http://romeothemovie.com/