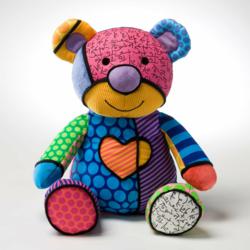 I believe that every human being should try to do good for someone else. There are so many different ways to do it. My art can be an instrument for helping people... What a good feeling - that I can do that with my art...
Miami, FL (PRWEB) September 26, 2011
Romero Britto has for years given his time and has contributed to philanthropic organizations. In October, Britto will be participating in an event with Off the Wall Gallery in Houston, Texas for Show Your Hearts. Britto will give all the proceeds from this event to this organization with the hopes of benefiting the children of Joshua and Robin Berry, whose lives were taken suddenly as a result of a tragic automobile accident. This event will kick-off on Saturday, October 22, 2011 with a special Children's event hosted by Britto from 1-3pm and will run until October 23.
The Show Your Hearts organization began as an effort to raise money for the children of the Berry family that lost their parents in a tragic car accident on July 3, 2011. The Berry family was returning from Colorado on a family road trip and was en route back home to Houston when they were hit head on by an on coming vehicle that merged onto their lane. Parents, Joshua and Robin Berry were killed instantly by impact. The three children, Peter age 9, Aaron age 8, and Willa age 6 were severely injured. Both, Peter and Aaron sustained spinal cord injuries and are paralyzed below the waist. They are being treated in a Houston, Texas area hospital. Britto is hosting this event for Show Your Hearts to raise money to aid these orphaned children. The funds will go towards medical rehabilitation, physical therapy, psychological support and education.
Britto has been a recognizable pop artist since his introduction to Miami, FL in the 1980's. His distinctive style and use of vibrant colors have made him very popular. With his fame Britto has made it his mission to give back. Britto has participated in countless philanthropic events and has partnered with a myriad of organizations to make this world a better place. This Show Your Heart event to benefit the Berry children is just another way Britto has volunteered himself to give back.
For more information about Britto and to see his work, visit http://www.popartmiami.com
###