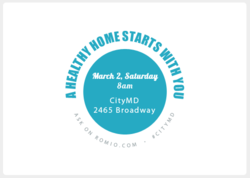 "At Romio, we are devoted to bringing local businesses and neighbors together" said Tarik Sansal, CEO of Romio
New York, NY (PRWEB) February 12, 2013
Romio, an innovative online local recommendations site that connects people with the best around them, and urgent care service provider CityMD, announced a one-of-a-kind event, A Healthy Home Starts With You, today. The event, which will take place at CityMD's Upper West Side location on Saturday, March 2 at 8:00 am, will feature a conversation led by New York City bloggers Serena Norr of Mama Goes Natural, Sherice Guillory Torres of The BadAssMama Chronicles, and Jessica Shyba of Momma's Gone City, and CityMD physicians. The event will provide an opportunity for local moms to learn more about the services and benefits CityMD provides, as well as tips on living a healthy life for NYC families.
"We want people in NY to feel better, get healthier and live a better life. We may only be a small part of their lives, but we want to be a positive force in changing their health habits. Of course just being able to help them for their immediate medical needs is important, but we want to be an agent of change in people living their lives to the fullest." said Calvin Hwang, Chief Brand Officer at CityMD.
"At Romio, we are devoted to bringing local businesses and neighbors together" said Tarik Sansal, CEO of Romio. "We look forward to the opportunity to partner with Serena, Sherice, Jessica and CityMD for a meaningful conversation which we hope will inspire those in attendance to use CityMD as a local resource, and spread the word about their services."
Learn more about how you could participate in the discussion by visiting: http://pitch.pe/11xrEIh.
To attend the discussion, please visit healthystartswithyou.eventbrite.com to RSVP and receive event details.
About Romio:
Romio is an innovative resource that allows users to share, search, and discover neighborhood recommendations from local experts and friends. Romio strives to make your life easier by connecting you with the best your city has to offer.
About CityMD: 
CityMD is a premier New York urgent care practice. Their board-certified Manhattan physicians provide prompt, professional medical care to adults and pediatric patients without the need for an appointment or referral. Their Manhattan medical facilities are safe, clean and state-of-the art, with extended and weekend hours for your convenience.
MEDIA CONTACTS:
Romio: Rechelle Balanzat, 646-535-7084, rechelle(at)romio(dot)com
CityMD: Calvin Hwang, 917-355-9000, chwang(at)citymd(dot)net