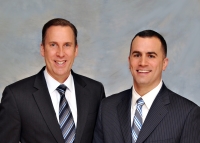 The Mortgage Interest Deduction has been around since 1913 and it is a wonderful incentive for owning a home.
Waltham, MA (PRWEB) October 09, 2012
John McGeough and Anthony Lamacchia, co-brokers and owners of McGeough Lamacchia Realty, say that while both plans from the candidates focus mainly on helping distressed homeowners, they need to focus more on preventing people from becoming distressed homeowners and supporting the larger portion of homeowners who are the people who can afford their homes.
The Romney Housing Plan calls for selling off vacant homes owned by the government, helping troubled homeowners avoid foreclosure by making it easier to do short sales and deeds-in-lieu of foreclosure, and reforming the government-owned sponsored enterprises Fannie Mae and Freddie Mac. Romney's housing plan also calls for replacing the Dodd-Frank Act with simpler, more sensible regulation.
The Obama Housing Plan proposes to invest $15 billion into rehabilitating and refurbishing hundreds of thousands of vacant and foreclosed homes and businesses and to transition foreclosed property into rental housing. Obama's plan also calls for Broad Based Refinancing for borrowers who are current on their payments to refinance their homes and will expand the Home Affordable Mortgage Program (HAMP) eligibility to reduce additional foreclosures.
McGeough Lamacchia Realty outlines five main issues which are not addressed in these housing plans:
The first issue outlined is to extend the Mortgage Relief Act which is set to expire at the end of the year. This Act relieves distressed homeowners from having to pay federal taxes on the amount of debt that was forgiven in a refinance or loan modification, short sale, or foreclosure.
"In Obama's budget proposal for 2013, he did call for an extension of this Act through January 1, 2015, but the clock is ticking," says Anthony Lamacchia. "This needs to be mentioned as part of an overall housing plan that protects struggling homeowners facing foreclosure."
The second issue is to preserve the Mortgage Interest Deduction which has been a part of the federal tax code for almost a hundred years.
"The Mortgage Interest Deduction has been around since 1913 and it is a wonderful incentive for owning a home. Eliminating or decreasing this incentive at a time like this would be very poor policy on behalf of our government," says John McGeough.
McGeough Lamacchia Realty says a sound Housing Plan from either candidate should include protecting the Mortgage Interest Deduction.
McGeough Lamacchia Realty says extending the so-called Bush Tax Cuts (also known as the Tax Relief, Unemployment Insurance Reauthorization, and Job Creation Act of 2010), is the third item that needs to be part of the conversation for improving the housing market. Several provisions of this law went into effect including one that reduced the tax rate on capital gains to a maximum of 15%.
For people who own investment property, the capital gains tax will increase if they are not extended beyond the end of this year. Right now for homeowners in the lowest two income tax brackets of 10 or 15 percent, the long-term gains are tax free. But if the tax cuts expire, the 10 percent bracket will collapse into the 15 percent bracket, and taxes for this bracket will go from 0 to 10 percent. For property owners in the income brackets above 15 percent, the long term capital gains tax will increase to 20 percent.
The fourth item that is not being discussed is how the Payroll Tax Cut hurts homeowners. In December of last year, President Obama signed the Payroll Tax Cut extension, but homeowners are paying Fannie Mae and Freddie Mac to pay to Treasury for the tax credit. The fees Fannie Mae and Freddie Mac charge to insure home mortgages increased to from 0.3 percent to 0.4 percent. For a homeowner with a $200,000 mortgage, that means their monthly mortgage payment would be about $17 higher or an additional $6,000 over the course of a 30-year loan.
Homeowners with bigger mortgages pay more. McGeough Lamacchia Realty says money should not be taken out of people's mortgages to pay for other government debts like the payroll tax law.
And finally, McGeough Lamacchia Realty says the housing plans should include keeping Fannie Mae and Freddie Mac rather than reform or replace them.
After the housing bubble burst, Fannie Mae and Freddie Mac were placed into conservatorships in September 2008 and have since received $188 billion in taxpayer support. McGeough Lamacchia cites they have already started to pay back the debt and are making money again. In August, Fannie Mae reported a net income of $5.1 Billion for the Second Quarter, and Freddie Mac reported a net income of $3 billion for the same time period. Fannie and Freddie have repaid about $46 billion to the Treasury in dividends and have not had to draw on Treasury funds for the second quarter of 2012.
Fannie Mae and Freddie Mac allow banks to offer home loans to low- and middle-income buyers who otherwise might not have been able to get a mortgage. McGeough Lamacchia Realty says without them, mortgages would be more expensive for everyone, which is why they should be kept.
McGeough Lamacchia Realty says both candidates need to include these five points in their housing plans.
For a full comparison of the Romney and Obama Housing Plans, visit the New England Real Estate Blog.
About McGeough Lamacchia:
McGeough Lamacchia Realty is the number one Real Estate Agency in Massachusetts and named one of the fastest growing Real Estate Companies in the U.S in 2012 by Inc. Magazine. They are a full service real estate agency serving home buyers and sellers Massachusetts and New Hampshire.
Sources:
Obama Plan for a Housing Recovery
Romney Housing Plan: Securing the American Dream and the Future of Housing Policy
Fannie Mae reports a net income of 5.1 Billion for the Second Quarter
Freddie Mac reports a net income of $3 Billion