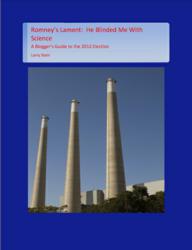 The Republican convention was a shotgun wedding. Only the NRA was happy.
Los Angeles, California (PRWEB) January 15, 2013
In the recently released, 'Romney's Lament', the author satirically recounts the convention that ignored its candidate, but gave a standing ovation to an empty chair. He correctly predicted that PACs would be more Clark Kent, than super. Readers of Romney's Lament relive the thrill of victory and the agony of defeat.
The author's caffeinated rhetoric simmers in this passage from the September 18 entry, "Romney's Tea Party."
"The tea is weak and poured with an unsteady hand. Romney has forgotten the sugar, and, embarrassingly, is mixing milk with lemon. The Romney campaign is curdling. Tea Partiers, who have finally earned a place at the Romney table, doubt the sincerity of the host. His most authentic tea party moment was offending the British, and that is the wrong tea party. There will be no shortage of mad hatters if, as is increasingly likely, Romney loses."
In this excerpt from "A Tale of Two Conventions," Larry contrasts the first day of the Democratic convention with the Republican gathering.
"It was the best of lines, it was the worst of lines. But the lines could not be more different. Chris Christie was like a best man who, trying to woo a bridesmaid, talks only about himself, and forgets to toast the groom. In one day, there has been more mention of, and cheering for, Obama than for Romney in the entire 3 days of, what must be called, the no name convention. The Republican convention was a shotgun wedding. Only the NRA was happy."
About the Author
The author lives in Glendale, California with his wife Roslyn and dog Pogo. He is captivated by ethnic cuisine, photography, politics, and thoroughbred horses. His first two urges are satisfied, traveling the world, with his trusty cameras, and ample appetite. He participated in many political campaigns, including as a paid staffer, in the 1980 presidential election. The proceeds from this book will help feed and train his horses.
Publishing a play, and an appearing with an improvisation group, have recently been checked off his bucket list.
His undergraduate history degree is from U. C. Berkeley, and his law degree from Boalt Hall. He practiced employee benefits, and labor law, for over thirty years.
About eBookIt.com
Since 2010, eBookIt.com, based in Sudbury, Massachusetts, has helped thousands of authors and publishers get their books converted to ebook format, and distributed to all the major ebook retailers, including Amazon.com, Barnesandnoble.com, Apple iBookstore, Kobo, Sony Readerstore, Ingram Digital, and Google eBookstore.
CONTACT
Email: shedrow1 (at) sbcglobal (dot) net
Phone: 818-242-8796
Cell: 818-484-1749
The author is available for phone, web or personal interviews.