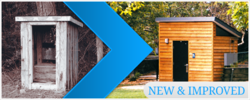 We've created a more simple method of finding the building you want at the price you need.
Roseburg, OR (PRWEB) October 04, 2012
The website has undergone a complete redesign with new several new features and much more modern appearance. Additionally, customers visiting the Romtec site will see starting prices for its extensive listing of restroom models, including restrooms with storage, showers, and concessions.
Pricing has become a very important issue in the engineering and construction industries, especially for public agencies. Romtec has offered value-engineered buildings for years, but the previous website design did not effectively communicate these savings to customers. The new website design shows the lowest price configuration for every Romtec model.
Greg Ekborg, Marketing and Communication Director at Romtec, says that, "Showing prices is a great business move for us [Romtec]. While we still offer beautiful custom buildings, Romtec will now display the lowest cost prices for fundamental, functional, and economical buildings."
The new website design, however, goes way beyond simply adding numbers to the model pages. Romtec's innovative filtering system allows customers to browse models by building types and the number of rooms needed. The slick system is fun to use and makes searching much faster and intuitive.
Romtec also added an entirely new section to the website that allows browsers to read about past projects. The projects can be filtered by industries such as golf course, beach, DOT, urban, and so forth so customers can see real projects completed in their field. Each entry has a short narrative story about the building and the location with pictures of each building.
The new Romtec website is a big step forward for the company. Instead of trying to describe the look of the site or the detailed list of new features, visit the Romtec site to see how this company is quickly becoming one of the best represented restroom manufacturers on the web.
Romtec, Inc. is a national designer, manufacturer, and supplier of pre-engineered public restroom buildings and other public utility structures. Romtec provides turnkey installation. Romtec, Inc. is a privately owned company founded in 1977. Romtec, Inc. is located at 18240 North Bank Rd. in Roseburg, Oregon. Romtec can be reached at 541-496-3541 or by visiting http://www.romtec.com.