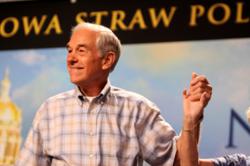 Gov. Rick Perry showed cracks in his free market health care rhetoric when asked about his 2007 executive order.
NORTHBROOK, IL (PRWEB) September 08, 2011
A perfect fiscal voting record paired with an unrivaled commitment to sound currency, limited government and non-interventionist foreign policy earned 12-term Texas Congressman Ron Paul an exclusive callout by moderators at Wednesday night's MSNBC-Politico Debate. While Rep. Paul was deemed the "constitutional absolutist," the other GOP candidates on stage continued to reveal their pick-and-choose approach to freedom.
Gov. Rick Perry showed cracks in his free market health care rhetoric when asked about his 2007 executive order requiring Texas schoolgirls to be vaccinated against sexually transmitted human papilloma virus (HPV). Perry admitted that he "probably should have talked to the Legislature about the law," which was resoundingly overturned by that body within months of enactment. Perry had a sympathetic ear in former Massachusetts Gov. Mitt Romney, also under fire for a mandated health care scheme, who suggested that Perry had "taken a mulligan" but his "heart was in the right place."
Perry had little in the way of response when questioned by Rep. Paul about his 1993 support for Hillary Clinton's national health care initiative, the precursor to Obamacare, which Perry has called wholly unconstitutional.
On foreign policy, Rep. Michelle Bachmann made an oblique reference to the Constitution in criticizing the uncertain outcome of President Obama's Libya offensive. Moments later, however, she declared that the U.S. should shift its focus to Iran, despite the fact that another war would be economically perilous, Iran is not a direct or proven threat to the United States, and the outcome would be similarly unpredictable.
Perry, meanwhile, had no specific recommendation when twice asked Wednesday night which front in the endless War on Terror should be curbed. This is despite his published statements lambasting military adventurism. Perry claimed to support – on a "philosophical" level – the constitutional mandate for a defined reason and clear entrance and exit strategy for military engagement, before proceeding to "tip his hat" to Obama for "taking out" Osama bin Laden and keeping "Gitmo" open.
Revolution PAC is bolstering Ron Paul's consistent, constitutional message with targeted TV advertising campaigns complemented by billboards and radio ads in key primary states. Unlimited donations toward this effort may be accepted by Revolution PAC, which is gearing up for a mass fundraiser on September 19.
The Revolution PAC seeks to widen the range of allowable opinion in the public square and to bring to the attention of the American public the neglected alternative of freedom, sound money, self-government, and a non-interventionist foreign policy. This is the answer to the big-government progressives and big-government neoconservatives who have brought our exhausted country to the brink of collapse. Our mission is to support the rare political candidate who defends these great American principles in public life.
For more information, visit Revolution PAC http://www.revolutionpac.com or phone 866-202-9367.
###