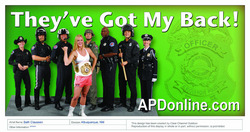 It is my small part in giving back to the police department and the City of Albuquerque for all of their years of dedicated service in combating the DWI problem and keeping the streets safe
Albuquerque, NM (PRWEB) August 23, 2007
Albuquerque attorney Ron Bell, a pioneer in lawyer advertising, donates space on three prominent billboards he pays for this month to Albuquerque Police Department (APD) for an officer recruitment campaign featuring Holly Holm.
"It is my small part in giving back to the police department and the City of Albuquerque for all of their years of dedicated service in combating the DWI problem and keeping the streets safe," he said.
Bell, the first attorney in America to use outdoor advertising, gained fame for his "I sue drunk drivers" campaign. He went on to become the first attorney to use MTV as well as indoor billboards at malls.
Michael M. Castro, Deputy Chief of Police, emphasized, "Ron Bell has worked closely with the Albuquerque Police Department for the past 20 years. He has graciously donated his premium billboard space to bring to life the APD's newest ad, 'Boxing Champion Holly Holm says, APD's got my back.' This campaign has been instrumental in generating unprecedented exposure for our recruiting efforts. Once again, Ron Bell has demonstrated his commitment to our community and his personal support for law enforcement. We owe a great deal to Ron Bell."
APD hopes to boost the number of officers from current levels of 1000 to 1100 through the increased exposure afforded by Bell's donation.
Ron Bell and Associates specializes in personal injury cases. The firm, located at 610 7th Street NW in Downtown Albuquerque maintains a strong profile due to Bell's high visibility advertising campaign.
More information is available at http://www.RonBell.com.
###