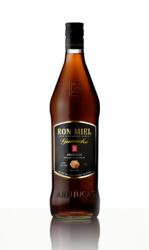 traditionally served over ice with a spritz of lime
San Francisco, CA (PRWEB) July 25, 2012
Copa Spirits Co. proudly announces the arrival and launch of the first "Ron Miel de Canarias" to be distributed in America. Ron Miel is a centuries old tradition of blending aged rum and honey in the Canary Islands, Spain. It carries a Designation of Origin to assure traditional methods of production and quality. Distillery Arehucas, founded 1884, began its Ron Miel production 70 years ago with current sales exceeding 1.5 million liters annually.
Arehucas, well known in Europe to produce world class rums, is a fourth generation family-owned distillery. They are the official noble supplier of the Spanish Royal Family and have a remarkable 50% market share of all rum sales in the Canaries, which hosts 12 million visitors a year.
Jason Montgomery, president of Copa Spirits Co. and sole importer of Arehucas rum says, "The Canary Islands have an incredible history as related to sugar cane and rum production. All four voyages of Christopher Columbus departed from the Canary Islands to the New World. On his second voyage Columbus carried sugar cane from the Canaries which was planted in Hispaniola and became our modern day Caribbean stock."
US launch markets (and wholesale distributors) for Ron Miel honey rum include: California (Wine Warehouse), Florida (Royal Beverage), Georgia (Quality Wine & Spirits), Illinois (Carbon Beverage), Louisiana (Glazer's), Michigan (General Wine & Liquor Co.), Minnesota (Paustis Wine Co.), Mississippi (Glazer's), Montana (Montana Liquor Control Division), New York (Oak Beverage), Ohio (Heidelberg), Tennessee (Omni Beverage), and Wisconsin (Badger Liquor Co).
Ron Miel honey rum is now available at over 210 locations, among them Astor Wines & Spirits, Binny's Beverage Depot, Conch Republic Key West, Tavern 99, Borgne Restaurant, Hi-Time Wine Cellars, and Smuggler's Cove. Ron Miel honey rum is best enjoyed chilled and retails for approximately $27.99 per 1 liter bottle.
About Copa Spirits Co.
Copa Spirits was founded in 2008 to introduce America to unique spirits from around the world. Its first product, Copa Cachaça, is one of the highest quality Brazilian cachaças in the world. In 2011, Arehucas, the largest rum distillery in Europe, granted Copa Spirits Co the exclusive rights to import their very popular rum products to North America for the first time. With the recent launch of Ron Miel honey rum to the North American market, Copa Spirits Co is currently focused on growing its already exciting portfolio and building sales & distribution regionally, nationally and internationally.