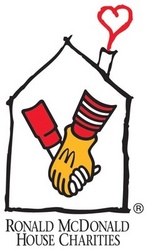 We're fortunate to have such long-standing corporate donors like McDonald's, Benjamin Moore, Coca-Cola Company and Southwest Airlines, among others
OAK BROOK, III. (PRWEB) December 4, 2008
The Season of Giving campaign will kick-off with new RMHC-branded pages on YouTube, Flickr and Facebook that profile real families and individuals who have been helped by the Charity's services, as well as provide an open forum for online discussion. In addition, RMHC will launch a re-designed Web site, http://www.rmhc.org, with improved navigation and engaging content, including video testimonials and a new friends and family e-card function. The campaign will also be supported by direct mail and print advertising featuring the personal stories of the Gonzalez and Wilcox families who benefited from the service of a Ronald McDonald House.
"We want to reach people in new ways to tell them about the work that RMHC does in communities across this country and around the world," said Linda Dunham, chairman of the Global Board of Directors for Ronald McDonald House Charities. "We also want to remind the public that we need their help not only during this Season of Giving but year round. Today, demand for our services exceeds our capacity to help across our three core programs – whether it's volunteering or making a small donation, every little bit counts."
This year's Season of Giving campaign will highlight a few of the following messages:
A Little Help Goes a Long Way:
Small personal donations can go a long way to cover the cost of housing and provide access to health care for children and families in need. Ronald McDonald House Charities – Season of Giving:
Give the gift of time – RMHC doesn't rely on money alone. Its network of over 30,000 volunteers save the Charity an estimated $1.8 million each year. The time you spend volunteering allows families to be with their ill or injured children, helping them in the healing process. RMHC is Every Person's Charity:
The money raised by RMHC stays in the community. Eighty-four cents of every dollar spent is used to support the work of local RMHC Chapters. One hundred percent of families served by the Ronald McDonald Care Mobile program are from local communities. A Time to Give Thanks:
RMHC is fortunate to have the support of a vast network of volunteers, supporters and corporate donors who give back to the Charity year round. "We're fortunate to have such long-standing corporate donors like McDonald's, Benjamin Moore, Coca-Cola Company and Southwest Airlines, among others," said Dunham. "Their support, and that of our numerous volunteers and individual donors, allows us to further our mission of helping children and families in need around the world."
About Ronald McDonald House Charities
Ronald McDonald House Charities, a non-profit, 501 (c) (3) corporation, creates, finds and supports programs that directly improve the health and well being of children. Its programs are grassroots-driven to enable the Charity to offer help where children need it most – right in their own communities. RMHC® makes an immediate, positive impact on children's lives through its global network of local Chapters in 52 countries and its three core programs: the Ronald McDonald House®, Ronald McDonald Family Room® and Ronald McDonald Care Mobile®. These programs provide a bridge to accessible health care and allow families more time together, which help in the healing process. RMHC and its global network of local Chapters also have awarded more than $460 million in grants and program services to children's programs around the world. For more information, visit http://www.rmhc.org.
©2008 McDonald's