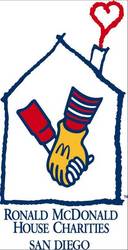 What do a 1985 Pace Arrow 28' motorhome, a 2000 Cadillac DeVille, a Four Winns 23' Vista boat, a 1992 BMW 735, and a 1993 Jayco 12' Po-Up Tent Trailer have in common? All of these vehicles and boats were among others recently donated to the Ronald McDonald House, resulting in thousands of dollars in additional support for the House
San Diego, CA (PRWEB) October 27, 2008
Action Donation Services® noted today that they have for over five years been successfully processing cars, boats, motorhomes and other property donations to benefit Ronald McDonald House Charities in San Diego (RMHC-SD).
"What do a 1985 Pace Arrow 28' motorhome, a 2000 Cadillac DeVille, a Four Winns 23' Vista boat, a 1992 BMW 735, and a 1993 Jayco 12' Po-Up Tent Trailer have in common? All of these vehicles and boats were among others recently donated to the Ronald McDonald House, resulting in thousands of dollars in additional support for the House," said Daniel Sinton, RMHC-SD Director of Development.
"We are pleased to be able to help the Ronald McDonald House with our unique services. They provide a home away from home for families of seriously ill children receiving treatment at nearby hospitals", said Client Charity Director, Ted Cox, "Any family in need with a seriously ill child being treated at a medical facility in San Diego is eligible to stay at the House. The alternative for these families of children with cancer, leukemia, and other serious illnesses would often be long hours spent sleeping in waiting rooms or automobiles and eating vending machine meals were it not for RMHC-SD."
Action Donation Services® accepts property donations nation-wide for some of America's finest charities including many Ronald McDonald House Charity chapters. Among its unique services that are beneficial to the Ronald McDonald House and their donors is a program that strives to maximize the selling price of donations by "fixing up" or refurbishing donations whenever it will be beneficial to the charity - and selling retail when feasible (rather than wholesale) in order to maximize the return to the charity and the tax deduction available to the donor.
Action Donation Services® has been processing donations nationwide for over seven years and will pickup qualified donations throughout the U.S.A. free of charge to the donor.
To donate your car, boat or other property click: Ronald McDonald House Charities, San Diego or call toll free (866) 244-8464. For information about Action Donation Services®: http://www.actiondonation.org.
Contact:
Ted Cox, Client Charity Director
619 993-7006
E-mail: ted.cox @ actiondonation.org
Website: http://www.actiondonation.org
###