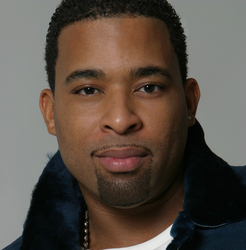 It was fun, challenging and exciting to perform spontaneously with Tyra. She's the bomb!
New York, NY (PRWEB) October 5, 2009
Notable Entertainment is pleased to announce that ScorpioGem Records recording artist and songwriter Ron Anthony will appear on the Tyra Banks Show for the Makeover Madness with another Tyover Remix on Friday, October 9, 2009 at 3 PM and 4 PM on the CW Network. Preview The Tyra Banks Show with Ron Anthony.
Tyra saw Ron perform at a private event hosted by Kathy and Ken Chenault in Sag Harbor, NY this summer and later, personally requested Ron appear on her show. On the TyOver Remix Show Ron is accompanied by his long time friends and singing band mates Topaza Watkins and Allison Williams Foster with musical backing by Chris Fischer and the Jamilah Band consisting of Larry Peoples, Sr., Larry Peoples Jr. and Jamal Peoples. The musical vignettes run through the length of the show as Tyra performs personal makeovers of selected guest from her audience.
"It was fun, challenging and exciting to perform spontaneously with Tyra. She's the bomb!" says Ron.
A master showman, Ron Anthony has performed around the world before audiences which keep wanting more… and more is what Ron gives! With velvet vocals and an awesome range, Ron can get crowds on their feet rockin' R&B and funk and then croon romantic love songs. He has shared the stage with many from Luther Vandross, Chico DeBarge, Gavin DeGraw, Paul Wall, Raheem DeVaughn, Amel Larrieux, Patti LaBelle to Mint Condition to name a few. Ron's current CD Ron Anthony II is in rotation on Music Choice (R&B Soul Channel) with the dance single 'Brooklyn Step' and the guitar laced 'Sexuality' added on October 7.
'Ron Anthony II' and his Christmas CD for the upcoming holiday season 'Christmas with Ron Anthony', are available at CD Baby. Ron's music is also available at most online retailers including iTunes.
Ron believes it's time to put the LIVE back into performances and ROMANCE back into R&B music. As one of the hottest, most talented new singer/songwriters to hit the scene, he is leading that charge, ready to take the world by storm with his energetic performances, live band, romantic lyrics and a voice that Luther Vandross anointed as the next crooner!
Luther told Ron, 'If you believe in yourself as I believe in you, heaven will be your audience and the stars will be at your feet'. Visit Ron at Ron Anthony Official Website.
Attached is a bio of Ron Anthony, jpgs of 1) Ron Anthony head shot; 2) Current CD cover 'Ron Anthony II'; and 3) Christmas CD Cover 'It's Christmas with Ron Anthony'.
For interviews with Ron Anthony, a review copy of the CDs or additional information, please contact Linda Berk, Notable Entertainment at the phone and fax listed below.
Contact:
Linda Berk
917-721-7227 phone
347-892-3416 fax
###