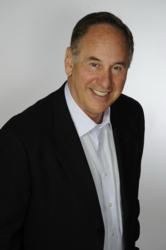 Ron has strong passion, commitment and vision for the Chicago ad community," said Anne Rago, Silver Medal Co-Chair. "This award formally recognizes the trust and respect Ron displays toward others – and that they have shown him throughout his career.
Chicago, IL (PRWEB) March 28, 2012
Ron Bess, President, Euro RSCG North America, and CEO, Euro RSCG Chicago, has been named the recipient of the Chicago Advertising Federation's 2011 Silver Medal Award.
The CAF Silver Medal Award recognizes a distinguished member of the Chicago advertising community for his or her contributions and accomplishments. Bess was honored at a luncheon on Friday, March 23, at The Drake Hotel in Chicago.
"Ron has strong passion, commitment and vision for the Chicago ad community," said Anne Rago, Managing Director Business Development, Novus, and Silver Medal Co-Chair. "He is a key supporter of the Off The Street Club, and he has helped create a stronger link between the CAF and the American Association of Advertising Agencies (4A's) to more fully unite the Chicago ad community. This award formally recognizes the trust and respect Ron displays toward others – and that they have shown him throughout his career."
Bess's career has come full circle in Chicago, and his connections to the city have remained strong since his start in the ad industry in the 1970s. His peers consistently laud his leadership, achievements and creativity. Bess attributes his success to a simple operating philosophy he applies to any new challenge: Face it. Figure it out. Fix it.
As President of Euro RSCG North America, Bess is responsible for the agency's overall business performance. As CEO of Euro RSCG Chicago, he has led the most significant turnaround in the agency's history. When Bess was recruited to join Euro in 2004, he took charge of the agency's realignment. Within two years he created its unified business model in Chicago, with all disciplines under one roof and one management team. He believes this cohesive collaboration is crucial for agencies to do great work and be successful in today's rapidly changing business environment.
Bess began his career in Chicago at Foote, Cone & Belding. After three years, he joined Needham, Harper & Steers (now DDB), where he was promoted in less than a year to account director for all McDonalds advertising. While at Needham, Bess also started the agency's relationship with Anheuser-Busch, leading the agency team that introduced Budweiser Light and then over the next two years changed the name to Bud Light and repositioned the brand to take down Miller Lite. Bud Light went on to become the largest-selling brand in the world – with a long run of breakthrough advertising leading the way.
With two creative partners, Bess next purchased the Chicago office of Backer & Spielvogel, renamed Bayer Bess Vanderwarker a year later. The business began with brands that included Cap'n Crunch cereal and Gatorade, the latter of which Bess helped grow from a $200 million regional niche brand to a multibillion-dollar new category called sports drinks. The growth was fueled by "Gatorade Is Thirst Aid" positioning and creative that had America wanting to "Be Like Mike." In 1996, BBV was purchased by True North Communications and merged into Foote, Cone & Belding, and Bess was named president of FCB Chicago. Under Bess's leadership, the agency grew from $600 million to $1 billion – the largest revenue increase in the agency's 125-year history – and was named Adweek's Midwest Agency of the Year in 1996. Bess subsequently was promoted to president of FCB Worldwide and seated on the board of directors of True North.
Bess then moved to New York to head Young & Rubicam's Diversified Communications Group, which included PR giant Burson Marsteller, branding leader Lander and all of Y&R's other non-advertising companies. After two years of 10 percent growth in the Diversified Group, Bess was named CEO of the company's flagship New York office to stop the dramatic decline in clients and revenue that office had experienced since losing 10 clients and one-third of its revenue in the previous two years. During the year and a half he held that position, the office made budget every quarter, suffered no more losses and won the Burger King business. Bess left Y&R to revive Euro's Chicago agency and assume responsibility for half the companies Euro owned in North America.
Bess lives in Chicago and enjoys spending time with family; attending theater and ballet in Chicago, New York, and Door County; and watching college football and basketball. As Chairman of the Chicago board of the 4As, he's also helping lead an effort to attract talent to and enhance the reputation of Chicago's creative community. He earned bachelor's and master's degrees from the University of Illinois at Urbana-Champaign. He's a board member of the Off The Street Club, the James Webb Young Foundation and the Advertising Education Foundation (AEF). He's also a member of the Economic Club and the Executives' Club of Chicago.
"I am honored to receive this award and be part of the proud history of Chicago executives to be recognized by the CAF," Bess said. "I am encouraged by where we are as a community and believe we can have a big impact on the future of our business."
Past Silver Medal recipients include: Howard Draft, Draftfcb; Keith Reinhard, Needham Harper & Steers/USA; William E. Ross, Tatham Laird & Kudner; Joe Sedelmaier, Sedelmaier Productions; George Lazarus, Chicago Tribune; Ralph Rydholm, EURO RSCG Tatham; Tom Burrell, Burrell Communications; Bud Frankel, Frankel; Rick Fizdale, Leo Burnett; Ralph Campagna, Off The Street Club; Bob Scarpelli, DDB Chicago; Jack Klues, Starcom MediaVest Group; John H. Johnson, Johnson Publishing; Bill Lamar Jr., McDonald's Corporation; Betsy Holden, McKinsey & Company; and Carla R. Michelotti, Leo Burnett Company, Inc.
Registration for the luncheon is now closed. To learn more about Bess and this award, visit http://www.chicagoadfed.org/silvermedal.
About Euro RSCG Chicago
Euro RSCG Chicago is a leading integrated marketing communications agency serving clients including Sears Holdings Corporation, PlayStation, Disney, Citigroup, EFFEN® Vodka, Sauza® Tequila, Reynolds and Hefty. Euro RSCG Chicago is part of the Euro RSCG Worldwide network, which is made up of 233 offices located in 75 countries throughout Europe, North America, Latin America and Asia-Pacific. The network, named to Advertising Age's 2010 A-List and deemed Campaign's 2009 Network of the Year, provides advertising, marketing services, interactive/social media and corporate communications solutions to global, regional and local clients. Euro RSCG Worldwide is the largest unit of Havas Worldwide, a world leader in communications (Euronext Paris SA: HAV.PA).