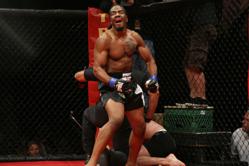 I just want to get my foot in the door
Belcamp, MD (PRWEB) May 31, 2013
It's been almost a year since Ron Stallings, AKA the ChoirBoy, has stepped into the cage to do battle or what he prides himself on doing, and that's putting on an exciting exhibition of finely tuned MMA artistry. Last September Stallings was pitted against UFC vet. Mike Massenzio in the east coast's premier MMA league, Lou Neglia's Ring of Combat (ROC). The bout was to fill the vacant middle champion spot, previously held but TUF stand out, Uriah Hall. For all accounts this was a fight, or a step stone, to get Massenzio back onto the UFC roster. UFC has traditionally signed ROC champions to fight in the octagon ie Frankie Edgar, Uriah Hall, Tom Deblass, Edson Barbosa, and current #1 middle weight contender Chris Wiedman. Most MMA pundits expected a victory for Massenzio and the bets confirmed the expectations but Stallings, a huge under dog, shocked expectations.
Stallings, in his most impressive performance to date, seemingly effortlessly pick apart the favorite, Massenzio, and earned a KO in the very 1st round. Upsetting the heavy favored Massenzio surely would get the attention of the big league MMA organizations, or at least that was the expectations.
MMA reporter David Neighbor had this to say after ROC 42, "When the dust settled and fans began filing toward the exits Ring Of Combat 42 was a fairly stacked regional card in which the fights delivered in a big way. It is difficult to speculate what might be next for some of the promotion's top stars as Jimmie Rivera and Ronald Stallings are likely to have interest from both of the two largest promotions in the world very shortly."
So anticipations were high following Stallings' victory that he would get called up to the big leagues. As of now that call, for some reason, is having difficulty coming to fruition.
"I was certain this victory would get my foot in the door to the UFC. I mean Massenzio is a beast and has some impressive victories over guys who are still in the UFC, and I stopped him in the 1st round. I just want to get my foot in the door. I should have went out for the last TUF season. I just didn't want to live in that crazy environment that the TUF has been known for. Some of the things that gone on in the show, I'm surprise no one got arrested for assault as a retaliation to what I call serious breach of the man- code. But this last season there was none of that, it was just fighting. And I'm positive I would have done well, maybe even got put against Uriah Hall to see you who is the real ROC middle weight champ (laughs) I should have went out for the show."
"I just want to get my foot in the door, when that happens everything will fall in place. I've even hunted down Joe Silva like a groupie just to give him my 30 sec pitch. It was like my Martin moment of the "Martin" tv show when Martin Lawrence waited around, sang with Jodeci and everything, just to get his 3 minutes with Varnell Hill. So I'm at the Seattle UFC, my teammate Mike "The Hulk" Easton was fighting, and after the fights I waited in the hotel lobby for like 3 hours just to see him and put my fight dvd in his hands. The lobby was packed with press and fans and different fighter were walking around and, I mean, I wasn't really concerned with that, because it looks nice, don't get me wrong, but I'm fighter, and I know I belong on the big stage, but it did look cool so see what it will be like when fighter make it to the top. But anyway I stay focused on spotting Joe Silva. I asked Mike Buffer, Goldie, some of the refs, and some other back stage people if they have seen Joe. Nobody had seen him and the crowds were leaving so it looked like I was going to strike out, but I stayed around and extra hour. Then I saw him and immediately jumped on, literally. He was getting in the elevator so I got in with him, put the dvd in his hand and gave my 30 sec pitch! I just knew if he watched the dvd he would be calling. No call yet, no way to track if he watched the dvd."
After still not getting the call, the next option is to reel off another impressive victory and that seems to be equally frustrating because fights are not coming.
"So I still haven't received the call I was looking for, I just figure if I stay active and on spectacular shows it will be impossible to over look me but I can't get a fight to save my life right now. Its like, I did so well the last fight that promoter and fights aren't stepping up to the plate. Which, really, I can understand, I mean I know how the game is played. Promoters/managers try to map out the best path for the fight to get to the top, honestly I pose a big risk. But at the same time I'm on a island stranded right now. Can't get a call from the big show and when I try to get fights from other organizations, I can't get a call back from promoters. It's crazy man and frustrating. But I'm staying active in the gym and the cool thing that is actually adding to the frustration is skill set has hit another level. I am doing some next level stuff in the gym and in sparring and I would love to show it in the cage but right now its just me talking."
"And for the promoters, I would help bring the brand up. Aside from fighting, I am a business owner and I understand cost, ROI, and paying bills. I would help put butts in the seats because after all it is the "Fight Business" and it is entertainment. A lot fighters fail to realize that but I don't and plus I want to get paid! And as a fighter I don't have the employee mind set, I'm a private contractor and with the mindset everybody wins."
"Its gotten so bad that sometimes I don't want to watch the UFC on tv because I look at some of the skill sets that get a opportunity and I'm like what in the world, that looks terrible. Who do I have talk to get a shot. I email and call other reputable organizations and for the most part I get ignored. I did get a few responses so I hopefully to turns into a sign fight real soon. I tired of waiting and I'm still at a good age to make serious run to the top but I don't want to wait til its due or die. Praying I get some good news soon."
It is worth noting that Stalling did fight one time under the Zuffa banner in StrikeForce losing split dec before he was cut.
"Man, to this day that bugs me. I mean I put on a good fight and loss on a split decision, not by knockout, submission, or domination a split decision! How do you get cut off that when you see fighters get utterly destroyed and another chance to prove themselves. If anybody can answer that for me I would greatly appreciate it. The only thing I can pull from that situation is don't lose, get the KO, no more discussion."
As of now, Stallings has reached out to organizations all over the country and Canada and stays hopefully optimistic his break through will come soon. A few have responded but Stallings didn't want to name them, but rather wanted wait and see if and when they come through before he start promoting. Until then says he will stay a student of the game, perfecting and adding to his skill set and teach his students at his MMA Academy (Top Flight MMA Academy) in Belcamp Maryland.