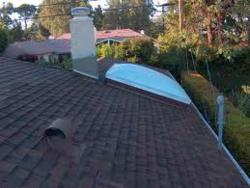 Homes that were constructed in the early 1990s can now be entering the final years of the useful life of a roof.
Jacksonville, Florida (PRWEB) August 26, 2012
Roof leaks in Jacksonville, Florida are now being repaired seven days a week thanks to Roof Link Inc. The tropical storms, hurricanes and strong winds that often come with these acts of nature can damage interior and exterior sections of a roof. The Roof Link Inc. professional roofing services are now offered to North Florida area homeowners that have or do not have homeowners insurance coverage. These expedited repairs are also provided at discounted prices due to the high demand for Roof Link Inc. professionals in Jacksonville and surrounding areas. More information can be found by visiting the Roof Link Inc. website at http://www.roofingjacksonvilleflorida.com.
Roofing technologies have been upgraded over the past 10 years. Homes that were constructed in the early 1990s can now be entering the final years of the useful life of a roof. Studies have been made on the lifespan of roofing shingles and new data has revealed that a roof can start to leak or totally deteriorate after 20 years. These studies also included that homeowners that had regular maintenance and inspections by qualified roofers were able to extend the lifespan of a roof or prevent common types of deterioration all together.
Product manufacturers like Owens Corning are considered some of the best creators of shingles currently on the market. The high weather damage ratios and innovative manufacturing techniques used today are much different that the methods used just 20 years ago. Wind tests are often performed on shingles that are installed in high hurricane probable states like Florida, South Carolina and Louisiana. Any shingle rating of 130 miles per hour or above is recommended for homeowners to have installed to prevent abrupt damage from rain, hail or severe winds.
Insurance laws in Florida are some of the strictest laws put in place to protect citizens from fraud. Current legislation has been written to require that insurance companies provide homeowners with easy to read insurance policies and answer with detailed answers when asked questions about insurance coverage. Roof Link Inc. works with several top insurance companies to ensure that homeowners with roof damage get to the problems resolved quickly. Homeowners that want a rapid quote for roof repairs or installations can get one online at http://www.roofingjacksonvilleflorida.com/contact.
About Roof Link Inc.
Superior products, discounted labor prices and seven days a week services are just a few of the things that come with roof repairs and replacements from Roof Link Inc. This Jacksonville, Florida based roofing company employs an entire staff of roofing experts that respond to quickly to homeowners experiencing roof, shingle and wind damage to a property. Roof Link Inc. works closely with insurance companies to assure homeowners that all damage that is legally required to be fixed is repaired at no expense to a homeowner working directly with Roof Link Inc. Interested people can contact Roof Link at Roof Link Inc., 2730 Isabella Blvd, Suite 50,
Jacksonville Beach, FL 32250 or call (904) 900-2801.