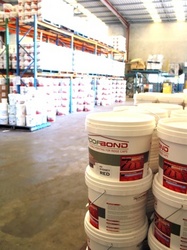 We're tradies. We've personally used all this stuff for years and we know which roof brands and products work.
Sydney, NSW (PRWEB) September 20, 2009
Aussie manufacturers prepared to pass savings onto roofing tradesmen and DIY consumers worldwide are signing up with the next generation of online distributors.
The winners are purchasers, with huge savings being passed on by leveraging online resources for more efficient marketing, sales processing and distribution. In a model something like an online version of the ALDI Supermarket chain, Solution Industries stocks only one brand for each product range and snubs traditional manufacturers which don't offer the right products or right price. This avoids the dilemma of choice which can lead buyers to dissatisfaction when multiple brands/product variations are added to shelves to give the illusion of choice and value.
However Solution Industries founder Joe Stephens has a different calling to your average building supplies salesman: "We're tradies. We've personally used all this stuff for years and we know which roof brands and products work." He adds that some of the best products go unnoticed through traditional marketing channels because they don't have the distribution. But with a network of 1000's of tradesmen throughout Australia and even overseas, online distributors like Solution Industries will supply the products they recommend regardless of distributor chain approval. They'll also be in a position to accept recommendations of new products from tradesmen for trialling by their own currently-operating contractors.
Builders, painters, roof restorers, concreters and cleaners can apply for Trade Discounts online which will give them a discount percentage across the board on all products offered. With or without a trade price log-in, anyone can buy at wholesale prices by ordering wholesale quantities - usually pallet or layer lot sizes.
"This is a brand new approach to selling building supplies", says Paul from Sydney's Heat Reflective Paints who placed the first order through the website this month. 'I'm always looking for suppliers with quality products that offer a real discount. We were a bit dubious about potential freight costs when buying heavy roof paint tins, but the free freight offer means we don't waste our trade price discount. We might even get it sent straight to the job site.'
Focusing first on roof painters and restorers, Solution Industries began with roof paints and their popular heat reflective paint.
Next came paint priming/preparation/sealing and roof repair products like flexible pointing, a mould cleaner and industrial strength mould killer.
Products are displayed alongside related 'How To' articles like:

How to paint a galvanised iron roof
How to apply acrylic render to blueboard
Concrete stenciling how to instructions
...and related products are grouped together so shoppers can investigate everything they need for their renovation or building project.
Most recently, additions have been made in the Tools and Equipment category thanks to the signing of an Australian airless spray gun manufacturer.
A one-stop destination for product information and technical advice, the Solution Industries website offers step by step instructions for the DIY handyman as well as application and technical specifications for professionals. "We're always right there to lend advice though, with a 1300 number and contact form for technical questions" assures Joe, 'Some DIY guys will even send photos with questions if need be. Any common questions are added to the product's FAQ list and put up on the website for everyone else to see.'
Manufacturers wishing for Solution Industries to trial their products can contact them directly at the website, however it's tradesmen recommendations that usually spark this new distributor's interest. And in tough economic times it's real discounts on quality products that sparks everyone else's interest!
###