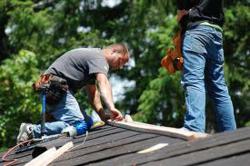 We frequently surprise homeowners with what we can do for them.
Jacksonville, FL (PRWEB) August 22, 2012
Roof repair Jacksonville FL is now available seven days a week for one company. The roofing experts at http://www.RoofingJacksonvilleFlorida.com are now available for repairs and total roof replacements seven days a week in the North Florida area. This change is in response to the overwhelming demand for roofing contractors in Florida that work to repair wind and other forms of weather damage to commercial and residential structures. Homeowners that need estimates or work done quickly that cannot do so because of job commitments can now take advantage of the 7-day availability of RoofingJacksonvilleFlorida.com.
The weakened economy in some states has caused more people to work more hours for sometimes less pay. States like Florida that has higher than average unemployment rates have reported increases in the amount of citizens that are working more than the traditional five-day workweek. The effects of working more hours a week can take a toll on home maintenance projects and repairs. According to the experts at RoofingJacksonvilleFlorida.com, the average roof is designed to last just 20 years before natural aging causes deterioration. Homeowners that already live in older homes could have a leaking roof that worsens deterioration that may not even be visible.
Insurance companies that offer homeowners insurance may not reveal all of the declarations that are in a standard policy when a homeowner purchases a policy for coverage. It is quite common for severe weather or other type of issue to cause damage to roofing shingles or the underlying roof structure. This damage usually requires a review from an insurance adjuster. Some homeowners that have not read or do not fully understand the policy protection that they have could be disappointed by what they are told.
One of the differences that experts at RoofingJacksonvilleFlorida.com offers is reviewing insurance policies for homeowners with roof damage and analyzing the true cost that insurers are liable to pay.
"We frequently surprise homeowners with what we can do for them," said Garrett Wadford, owner of RoofingJacksonvilleFlorida.com. "We know the laws of Florida and what insurers are supposed to pay regardless of what adjusters do to the final damage total," Wadford added.
The new seven days a week inspections, repairs and roof replacements that are now offered to North Florida residents by RoofingJacksonvilleFlorida.com are offered at a time when tropical storms and hurricanes are reportedly going to be severe this year compared to previous years. A homeowner that needs a roofing contractor immediately or that is obtaining roofing quotes could benefit from the new business hours of this roof repair Jacksonville FL company.
About RoofingJacksonvilleFlorida.com
The RoofingJacksonvilleFlorida.com website is a subsidiary of Roof Link Inc. one of the premier roofing contracting companies in the Northern Florida area. With highly skilled contractors and up-to-date tools, this roofing company is helping residents of Florida to repair roof damage and to remove old roofs that are deteriorated from age or by severe weather. The lower than standard pricing and professional roofing projects are helping to make RoofingJacksonvilleFlorida.com a go-to source for homeowners in Florida. The addition of 7-day a week service is positioned to help this roofing company exceed its 2011 quote requests.