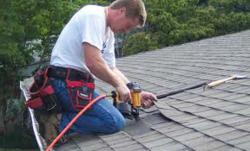 Sun, age and other deterioration is what causes water to penetrate shingles and escalate damage like mold growth.
(PRWEB) September 01, 2012
Roof repair in Ocala, FL experts are now working overtime to meet the demands of homeowners in the North Florida area. Roof Link Inc. an expert roofing contracting company, has extended its business working days to seven days a week. Roof Link is now working with insurance companies to help repair roof damage or to make entire roof replacements possible for homeowners. The extended working hours are designed to provide prompt services to homeowners that desperately need repairs and replacements completed quickly. More information about Roof Link can be found by going to http://www.roofingjacksonvilleflorida.com.
According to the National Weather Service, a tropical storm can easily exceed winds of over 100 miles per hour before being upgraded to a category hurricane. Homeowners that own an older home are usually more susceptible to wind and hailstone damage. It is the strength of the winds and repeated rain that can quickly deteriorate old shingles and cause leaks or mold growth. Some of the services now provided by Roof Link Inc. include mold and algae removal. These are two substances that often remain hidden on the surface but can destroy a roof.
"The average customer we speak with has no idea that mold can grow on top of their roof," said Garrett Wadford, owner and expert roofer at Roof Link Inc. "Sun, age and other deterioration is what causes water to penetrate shingles and escalate damage like mold growth," Wadford added.
Insurance legislation has always been a popular topic in states like Florida that have ever-changing weather conditions. Insurance companies frequently hire risk management companies to provide the estimates that are used to calculate the highest payable dollar amounts when repairs or damage is needed to a property. These practices are highly speculative and legislators frequently update laws concerning insurance fraud and homeowner's rights.
One service that is provided apart from the seven day a week working schedule by Roof Link Inc. is insurance policy reviews. There are minimum and maximum dollar amounts that are payable when damage to a roof is reported. Insurance companies frequently limit the dollar amount payable based on the age of a roof. The expert review of insurance policies offered by Roof Link Inc. can help a homeowner that is fighting an insurance claim to better understand rights and protections guaranteed by state legislators.
The expert tropical storm and hurricane roof damage repairs and replacements now offered at Roof Link Inc. can be obtained by a homeowner that contacts the Roof Link Inc. main offices at the following address:
Roof Link Inc.
2730 Isabella Blvd.
Suite 50
Jacksonville Beach, FL 32250
(904) 900-2801
About Roof Link Inc.
Expert roofer and businessman, Garrett Wadford, brings his experience and knowledge into the North Florida roofing scene. The creation of Roof Link Inc. is one way that this roofing professional is giving back to his hometown of Jacksonville, Florida and surrounding neighborhoods. Roof Link Inc. finds, hires and trains the best roofing contractors to perform all repairs and installations for the company. With an expert team, online quote system and affordable prices Roof Link Inc. continues to expand its services in the North Florida area.