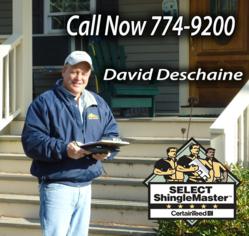 Roofing Repairs In Maine With David Deschaine
South Portland, Maine (PRWEB) April 10, 2013
David J. Deschaine, a local South Portland, Maine roofing contractor, is proud to announce that they have added a new roofing repair department to their services. Roof repairs are not always something that larger roofing contractors handle because they only want to complete full roofing installations; that is why David J. Deschaine has begun to offer this new complementary department.
If any client needed a small roof repair, David J. Deschaine always had roofing technicians ready take care of the problem. They understood that while not all roofs needed repair, it was best to have technicians on hand to fix minor issues. The new roofing repair department can not only provide those small repairs, but can now do major repairs as well.
Typically a roof repair only takes a few hours to complete, and David J. Deschaine can get the job completed quickly so homeowners won't have to deal with any leaks. As specialists in residential roofing, David J. Deschaine handles all types of roofing repairs, including metal roof repairs, asphalt roof repairs, and flat roof repairs.
For information about the new roofing repair option, customers can visit their website, or call (207)774-9200.
About the company:
David Deschaine Roofing and Vinyl Siding Company has been offering professional and trusted home improvement services for over 25 years. With thousands of satisfied customers throughout Southern Maine, David Deschaine has the most trusted and recognizable name in the industry. Servicing the Greater Portland, Maine areas, his company offers five star coverage to customers, and with 25 years experience there is the added benefit of a Workmanship warranty. David Deschaine offers free estimates for roofing, siding, windows, and gutter projects. For more information visit their website at http://www.daviddeschaine.com.