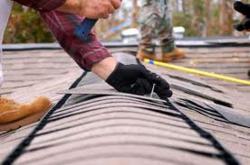 We're proud to serve residents of Jacksonville, many of whom I know very well.
Jacksonville, Florida (PRWEB) August 21, 2012
Roof replacement Jacksonville, Florida is one thing that homeowners that battle tropical storm and hurricane damage depend upon. One native resident, Garrett Wadford, is helping to give back to the Jacksonville community with his company Roof Link Inc. As one of the premier roofing companies in Northern Florida, Roof Link Inc. is helping residents to get their home back after damage has caused leaks or other visible destruction to the exterior of the home. These expert roof replacement Jacksonville, Florida services are provided to homeowners with and without homeowners insurance and in many cases insurers pickup the cost of the repair work required.
The winds of a tropical storm or hurricane can exceed well above 120 miles per hour. Wind tests are frequently performed by roofing shingle manufacturers to determine the wind test ratio that is best suited for each brand. While these tests can be helpful in many cases, there is no guarantee that professionally installed shingles can withstand the damage of heavy winds, rain and hail stones. An expert roofing contractor that has the right tools and experience is often in high demand to do patch work, repairs and full blown roof replacements in states like Florida.
Insurers that underwrite insurance policies can include special declarations for homeowners that live in high-risk states like Florida to help protect against sudden disasters. Some insurance policies do not provide protection against other forms of corrosion and deterioration that have little to do with severe weather. Both mold and algae are two substances that are known to grown on the interior and exterior of roofing shingles. A homeowner can experience leaks and water damage from shingles that are rotted from these growths over a period of time. Replacing these shingles or entire portions of the roof is in the expert services from companies like Roof Link Inc.
"We're roofing experts and use products like Owens Corning for all residential and some commercial roof repairs," said Garrett Wadford, owner and roofing expert at Roof Link Inc. "We're proud to serve residents of Jacksonville, many of whom I know very well," Wadford added.
Earlier in the winter of 2012, Owens Corning, one of the largest manufacturers of roofing materials, named Roof Link Inc. a Platinum Preferred Contractor. This prestigious award has only been presented to 90 other roofing companies in the entire United States. The residents of Jacksonville, Florida and other Northern Florida communities now have access to the expert services of Roof Link Inc. for expert storm damage and all-purpose roof repair.
About Roof Link Inc.
Roof Link Inc. is an A+ accredited business by the Better Business Bureau and a Platinum Preferred Contractor rated by Owens Corning. This roofing company and licensed general contracting experts work hard to provide Northern Florida residents with a better alternative in roof repair and installations. By fixing storm damage, roof leaks and other homeowner catastrophes, Roof Link Inc. has made a name for itself among homeowners associations and homeowners in the Jacksonville, Florida area and surrounding communities.