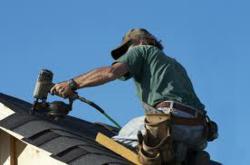 The quotes that are offered online by Roof Link Inc. are accurate assessments of homeowner roof damage.
Palm Valley, Florida (PRWEB) September 08, 2012
Roof replacement during and after the tropical storm and hurricane season is a reality for many homeowners in Florida. The unexpected damage that can happen could be a costly venture for those without insurance. Since some insurers don't cover all types of repair or replacement work, Roof Link Inc. is now making it faster and easier to get online estimates. Roof Link has expanded its local roofing company in North Florida to other communities. Getting roof replacement in Palm Valley, FL estimates for repair is one thing that nearby homeowners can count on 365 days a year. More information about the new online estimate system can be found directly on the Roof Link website at http://www.roofingjacksonvilleflorida.com/roof-replacement-palm-valley-fl.
States like Texas, South Carolina and Florida that have weather patterns that are unpredictable all year round often have widespread fluctuations in the cost for roof repair work. There is currently no benchmark for fees and services that companies can use to provide to homeowners. There are industry estimates that are offered by insurance regulators that some companies use to put a price on work that is completed.
The quotes that are offered online by Roof Link Inc. are accurate assessments of homeowner roof damage. An easy to use quote form asks basic information from users. Expert contractors at Roof Link review all data that is submitted and an estimate is provided fast. The speed of this new system can help a homeowner that does not have insurance to plan accordingly with the accurate fee structure.
Quality roofing shingles are very important when it comes to protecting the underlying structure of a roof. The shingles that were made just 20 years ago are now outdated as new manufacturing techniques have stepped up the safety factor. It is now possible for homeowners to select products to replace a roof that can last 30 or more years under general use.
Companies like Owens Corning that produce shingles that are rated for winds in excess of 130 miles per hour are helping to protect more homes. Roof Link Inc. is a Platinum Preferred Contractor certified by Owens Corning for roofing excellence.
Residents of Palm Valley, FL and the additional communities in St. Johns County can contact Roof Link Inc. online or offline for an accurate estimate. The Roof Link website can be accessed at http://www.roofingjacksonvilleflorida.com. Homeowners that want to contact Roof Link directly at the main headquarters can make contact at:
Roof Link Inc.
2730 Isabella Blvd.
Suite 50
Jacksonville Beach, FL 32250
(904) 900-2801
About Roof Link Inc.
Garrett Wadford started his Roof Link Inc. company to be one that offered low rates for high quality work. Since the start of this roofing company, homeowners in all parts of North Florida have experienced some of the most skilled contractors that are available in the state of Florida. By hiring and training the best contractors in Florida, Roof Link Inc. has been able to uphold a certain level of quality for homeowner roof repairs and installation work. Roof Link recently expanded its daily operations to seven days a week to keep up with the response and demand from North Florida homeowners.