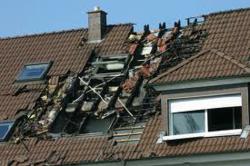 We're not out to do the work are cheaply as possible. We do it right or we refuse to take the job.
Jacksonville, Florida (PRWEB) August 28, 2012
Roof replacement North Florida company is now repairing tropical storm damage for homeowners. Tropical storm Isaac nearly missed Jacksonville, Florida and one company is still honoring the discounts publicized for roof repair. Roof Link Inc., expert North Florida roofing company, is in the midst of repairing tropical storm damage to those in the North Florida area and is honoring roof repair and replacement discounts. The owner of the company, Garrett Wadford, is providing this good faith offering to area homeowners that are searching for a reliable roof replacement company. More information about Roof Link discounts and services can be found at http://www.roofingjacksonvilleflorida.com.
While North Florida has escaped most of the recent tropical storm damage, some homeowners in surrounding Florida cities have not been so lucky. Wind gusts of 100 miles per hour can easily tear through the roof of a property. Insurance companies that assess wind and roof damage usually contract the work out to one or two specific companies with contracts for the work. The goal of adjusters in the insurance business is to pay the least amount of money to fix damage to the home of a property owner.
"We do a 50/50 ratio of insurance claims and non-insurance claims," said Garrett Wadford, owner of Roof Link Ink. "We're not out to do the work are cheaply as possible. We do it right or we refuse to take the job," Wadford said.
Older homes in states like Florida with an unpredictable hurricane season can be more at risk than homes built within the past decade. The supplies used by roofing companies just 20 years ago are now virtually outdated due to new developments in manufacturing products. A homeowner that is still paying a mortgage on a 20-year old home could find that wind damage is something that can be expensive to fix.
New shingle products are released annually by manufacturing companies that spend the majority of the year developing new ways to protect roofs from damage. Companies like Roof Link Inc. that keep up with this technology are able to provide homeowners with proven solutions that offer guaranteed wind and hail protection.
All roof replacements and repairs made by Roof Link Inc. include shingle options by Owens Corning. This shingle manufacturer is one of the top manufacturers of hurricane protection shingles in the roofing industry.
Homeowners that are searching for roofing repair or replacement quotes can contact Roof Link directly at Roof Link Inc., 2730 Isabella Blvd., Suite 50, Jacksonville Beach, FL 32250 or by calling (904) 900-2801.
About Roof Link Inc.
Roofing repairs and replacements are two of the things that Roof Link Inc. does just a bit better than most companies. Garrett Wadford started Roof Link with the goal in mind to be the absolute best in the North Florida area. As one of the rising businesses in the Jacksonville, FL area, this expert roofing company has hired a team of specialists that are all experienced in the construction industry. With insurance work and affordable prices, Roof Link Inc. is quickly become one of the most in-demand roofing contracting companies to repair storm, wind and hail damage to properties.