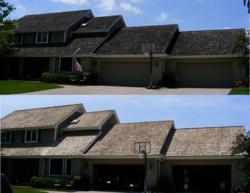 You will get more years of service from your roof by having it professionally cleaned and maintained.
Des Moines, IA (PRWEB) March 19, 2012
Sullivan Roof Cleaning now offers a specialty cleaning service that can extend the life of cedar or wood shingle roofs for up to 20 years.
Based in Des Moines, Iowa, Sullivan Roof Cleaning, an established name in the roof cleaning industry, is spreading the word about its new cedar shake shingle cleaning service. Cleaning is the most important part of maintaining any roof and when it comes to cedar shingle roofs and Sullivan Roof Cleaning is an expert authority.
As a roof is exposed to the elements over the years, deteriorating bacteria such as algae, moss, mold, mildew, fungi and lichen will cause serious problems for cedar shingles. Not only will they damage the wood and lessen the structural integrity of a roof, but bacteria also cause shingles to appear dull, dirty and aged. This is a major problem for homeowners seeking to sell a house or keep it looking new.
Sullivan Roof Cleaning utilizes a no pressure cleaning method that won't damage the cedar, while cleaning and preserving the properties of the wood. Using a cleaning solution specifically formulated for the treatment of cedar wood, there is no damage to a home, property or landscaping. This is a very important advancement in the care of cedar shakes and shingles and can provide many benefits to a homeowner. Now, instead of premature replacement of your roof, the life of a cedar shake shingle roof can be significantly lengthened by having it professionally cleaned and maintained, bringing back the original enjoyment and aesthetic appeal to any home.
"Why have your roof replaced, when we can clean it?" says Bruce Sullivan, Owner of Sullivan Roof Cleaning. "I see too many people repairing and even replacing their roofs at half life. Most of the time, it's because the roof has not been maintained and the homeowners do not know what to do about it. How do you extend the life of your cedar shake shingle roof? You will get more years of service from your roof by having it professionally cleaned and maintained. Doing so not only extends the life of your roof anywhere from 5 to 20 years, depending on the roof's present condition, but you also increase the resale value of your home. That's extremely important."
Aside from the aesthetic benefits of having a cedar shake shingle roof professionally cleaned, its life expectancy is dramatically improved. This simple, cost effective process saves homeowners time, money and the hassle of having to unnecessarily repair or replace their roofs too soon.
To learn more about Sullivan Roof Cedar Shakes Cleaning visit http://www.CedarRoofClean.com.
About Sullivan Roof Cleaning
Sullivan Roof Cleaning has been providing services to Iowa for over 3 years and is expanding throughout the mid-west United States. Bruce Sullivan is a Certified Roof Inspector and an expert authority on wood roofing. Aside from cedar roofs, Sullivan Roof Cleaning also cleans composite asphalt/fiberglass, tile, slate and metal roofs. Contact Sullivan Roof cleaning and get your free roof inspection today.