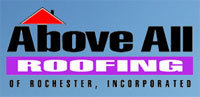 Members of the Above All Roofing crew are not subcontractors but employees, and this allows for maintaining the highest standard of quality control. We're not the biggest, and we're not the oldest, we're just the best.
Rochester, Minnesota (PRWEB) April 4, 2011
Above All Roofing of Rochester, Inc. is pleased to announce the launch of their residential and sloped commercial roofing services website at http://www.rochesterroofs.com. The site focuses on roofing services, frequently asked questions, and includes a photo gallery of homes and businesses.
The Above All Roofing web site provides an overview of their services and explains the benefits of hiring a professional contractor for roofing installation or replacement. Their services are targeted locally to roofing Rochester, MN, and the Southeast Minnesota area.
Above All Roofing president, Ryan Reinalda, states: "We decided to expand marketing on the web in part due to the tracking that we were doing on our print advertising. We were not impressed with our quantity of leads nor our ROI. We desire to be the most internet-based roofing contractor in the Rochester area."
"On April 8th, we will be adding Mark Mabbitt to the team. His position is Vice President, and his responsibilities will include assisting with day-to-day operations, assisting homeowners with class-action claims and possibly some limited sales."
Above All Roofing is rated an A+ by the BBB, member Rochester Area Builders, the National Association of Homebuilders and the Builders Association of Minnesota. We are credentialed to CertainTeed's (shingle manufacturer) highest level, SELECT Shinglemaster.
Before founding Above All Roofing in June 2003, Rochester native Ryan Reinalda worked with several other roofing crews in the area and gained extensive experience and knowledge of the roofing business. Reinalda is a family man, living in the community, and he wanted to train a crew of employees that he would feel at ease with if he engaged them to work at his home. His crew consists of five employees who also have roots in the community. Members of his crew are not subcontractors but employees, and this allows Above All Roofing to maintain the highest standard of quality control. Employees receive their training in-house, so clients can have the assurance that each crew member will give excellent service and treat every customer with respect. A company slogan is, "We're not the biggest, and we're not the oldest, we're just the best."
Among Rochester, MN roofers, Above All Roofing stands out as one of the most exemplary Minnesota roofing contractors in the area. The company has received recognition for its high performance standards from the National Association of Homebuilders, the Builders Association of Minnesota and Rochester Area Builders. The firm has a reputation for putting quality, safety and respectful service into each of their jobs, beginning with the customer's first inquiry to the final cleanup and beyond.
Above All Roofing in Rochester, MN, specializes in both residential and sloped commercial roofing. They install fiberglass and/or steel shingles on newly constructed buildings, and can provide entire roof replacement services. They never put new shingles over an old roof, but always tear off the old shingles before installing new ones. This ensures a professionally installed and longer lasting roof and protects the warranty as well. They are careful to abide by all code requirements, which keeps the warranties on shingles valid. The firm provides 50 year non pro-rated warranties on the roofs they install, so those roofs should perform well for decades. Also, during the snowy winter months Above All Roofing provides roof snow removal services and ice dam removal via steam.
Above All Roofing is known for its fast service and usually responds to requests for free estimates within one business day. In addition, they can normally tear off and install a new residential roof in one day. Larger, odd sized or complex roofs may take slightly longer to complete. The company offers the services of a trained consultant concerning attic insulation and ventilation, and their crew may be capable of remedying a problem in that area. If they do not correct the problem, the consultant will give advice about solutions or provide references for professional assistance. The firm also provides help with insurance claims and class-action lawsuits.
Above All Roofing prides itself on completing roofing jobs that exceed manufacturers' guidelines and never compromising on quality. They focus on putting their customers first and always treating them and their employees with respect and consideration. Their promptness, competitive pricing and professionalism have helped contribute to making the company one of the preferred Minnesota roofing contractors.
###