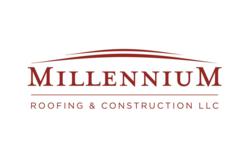 Murfreesboro, TN (PRWEB) July 06, 2012
Millennium Roofing & Construction has been proudly servicing their customers in Nashville and Murfreesboro TN since 1999. After a series of devastating storms with 60 mile an hour winds and golf size hail went through Murfreesboro, the owners of this Murfreesboro and Nashville roofing company sprung into action to help the community rebuild.
The team of roofing experts at Millennium Roofing & Construction spent the last 4 months helping residents of Murfreesboro, Christiana, Shelbyville and nearby areas repair the damaged roofs and siding. As a result of this effort, many businesses and homeowners throughout the area now have new top quality roofs while the team at Millennium Roofing & Construction is proud to have had the opportunity to help local residents.
Steven Carver, the owner of the company, and Kenny Bell, the general manager, strive to grow the company to be one of the most well-known and highly respected roofing contractors in the Middle Tennessee. They founded their business on a principle of providing the best service possible to their customers. They use only the highest quality building products with a strict quality control procedures. Each job the company does undergoes a thorough final inspection to prevent any headaches in the future, giving customers the peace of mind they deserve.
Millennium Roofing & Construction's specialty is insurance claims. The company has licensed insurance adjusters that work alongside homeowners' insurance companies to expedite the claims process, resulting in speedy, hassle-free transactions for all parties involved. The adjusters assist homeowners during the meeting with insurance companies, and provide printed photos of the damages identified during the initial inspection, itemized estimates for the necessary repairs, and easy-to-read diagrams with all of the required measurements. After settling the claim, Millennium Roofing & Construction team members work closely with their customers and the insurance company to assure a smooth process. They take pride in their attention to detail and years of experience in the roofing and exterior maintenance industry.
With the ability to serve any part of Tennessee, Millennium Roofing & Construction is one of the state's premier roofing companies. The owner is looking forward to serving more and more customers and the Nashville TN and Murfreesboro TN areas.
About the company
Millennium Roofing & Construction is a proud accredited member of the Better Business Bureau (A+ rating) and the National Roofing Contractors Association. They are also "Certified GAF Weather Stopper Roofing Contractors" and were recently interviewed on WATE Channel 6 Knoxville and were showcased as an example of what a good roofing business should be. They have earned a reputation for providing practical, innovative, and cost effective solutions to meet the diversified roofing needs of their customers. 
For more information, visit their website at http://www.millenniumroofingtn.com or call 1-615-525-6725.