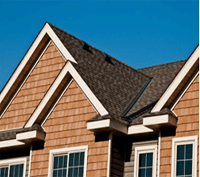 San Jose, CA (PRWEB) September 29, 2011
Winter is coming and San Jose roofing company Above All Roofing Solutions is urging everyone to take advantage of the remaining couple of months of semi-dry weather to prepare their roofs ready for the coming rain. Leaves, dirt and other debris stuck on the roof and in the gutters can cause leaks, which can lead to more expensive damage to the roof and interior. Water leaks between walls and under the roof can cause dry rot that will prematurely deteriorate the roof covering. Dry rot can cause thousands of dollars in damage to the wood framing under the roof and in the walls. Taking preventive measures now will help save money in the long run.
San Jose's Above All Roofing Solutions uses only the highest quality products for its roofing projects. Their suppliers and manufacturers are established and recognized companies devoted to supplying only the best roofing materials to consumers. Some of the services they offer include roof repairs, residential, commercial, and industrial re-roofing; new roof installation; 24-hour emergency service; and gutter and downspout installation.
For more information about Above All Roofing Solutions' products and services, call 408-514-5310 or visit http://www.aboveallroofingsolutions.com. Above All Roofing Solutions is located at 700 Northrup St., San Jose, CA 95126.
About Above All Roofing Solutions, Inc.
Above All Roofing Solutions, Inc. is an independent roofing contractor located in the South Bay Area. They offer products and services for every roofing need. Above All Roofing specializes in everything from identifying leak locations to complete re-roofing. The roofing company has extensive knowledge in many types of roofing systems, including asphalt shingles, wood shakes, built-up roofing, and tile and slate. Their goal is to provide their customers with quality workmanship and timely service at a fair price. The company is licensed, bonded and insured, and a long-term member of the Better Business Bureau.
###