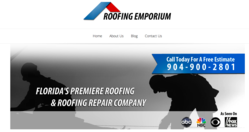 The new Roofing Emporium website is designed to help expedite the quotes that are generated for roof repair and replacement services.
Jacksonville, Florida (PRWEB) October 01, 2012
Roofing contracting company services can be hard for a homeowner to find that is not educated about the roofing industry. A new website has been launched in an effort to make it faster and simpler for homeowners to get roof repair and replacement services online. The Roofing Emporium website has been launched as a premier resource for roofing information for North Florida homeowners. The expert contractors that work with Roofing Emporium are state licensed and available seven days a week to assist homeowners with roof related inquiries. More information about Roofing Emporium can be found at this link http://www.roofingemporium.com.
According to the Florida Department of Business and Professional Regulation, there are hundreds of licensed contractors performing repair and replacement work for homeowners. One drawback for homeowners that live in hurricane prone states like Florida is the shortage of qualified companies that are available. There are 67 counties in Florida with many of the available roofing companies residing in the larger cities.
Not all companies are willing to dispatch contractors to travel to multiple counties to respond when homeowners make requests for roof repair estimates. The Roofing Emporium website is designed to link homeowners with qualified contractors that can respond fast when damage is reported.
The hurricane season in Florida is one of the busiest times for roofing companies. The start of August until the end of October can be a difficult time for homeowners to get needed repair or replacement work finished. The hundreds of insurance companies that underwrite homeowner policies often select roofing companies for more than one insurance job. This can create scheduling conflicts with homeowners that require less important roof work like estimates and interior assessments of potential water damage.
The Roofing Emporium website was designed to eliminate the delays that can happen during the hurricane season and beyond for Florida homeowners.
Both homeowners and construction companies can have problems finding qualified workers for roofing jobs. The legislation in Florida is routinely monitored and changed as new laws are passed. One reason for the shortage in available roofers is the roof replacement legislation that is tied to insurance companies. If 25 percent of a roof has been damaged after assessment, it is standard for a roof to need replaced in Florida.
It is not uncommon in the hurricane zones in Florida for multiple homeowners to be affected before, during and after hurricane season has ended.
The new Roofing Emporium website is designed to help expedite the quotes that are generated for roof repair and replacement services. An easy to use quote form has been installed on the Roof Emporium website to make communication easier for Florida homeowners searching for a qualified roofing company.
Homeowners that want to keep up with roofing news or services offered by Roofing Emporium can visit this link http://www.roofingemporium.com/blog.
About Roofing Emporium
Roofing Emporium is an online destination for homeowners in North Florida to obtain accurate information about roof repair and replacement services. Homeowners can make instant contact with roofing companies through an online quotation process or by calling the local Roofing Emporium North Florida phone number. The contractors inside of the Roofing Emporium database typically work seven days a week due to the overwhelming demand for roofing contracting services in Florida. Roofing Emporium is based in Jacksonville Beach, FL and extends its services to all homeowners in the state of Florida.