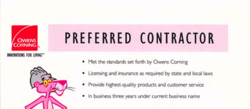 We could've been certified by any shingle company, but we sought out the prestigious Owens Corning certification.
Jacksonville, Florida (PRWEB) August 31, 2012
Roofing contractor in Jacksonville, Florida is now an Owens Corning Platinum Preferred Contractor. The Owens Corning company, the premier wind protection shingle manufacturer, has awarded Roof Link Inc. with its highest contracting company honor. To meet the qualifications, Roof Link Inc. had to undergo a careful review of its business as well as a financial stability and verification test. This award is held by less than one percent of roofing companies in the entire U.S. The announcement of this top tier certification is more good news for the residents of North Florida that narrowly missed Hurricane Isaac on August 26, 2012.
Roof Link Inc. is now taking advantage of its new Platinum Preferred Contractor certification by offering online price quotes for homeowners that need a roof repair or replacement. Interested homeowners can contact Roof Link Inc. directly at http://www.roofingjacksonvilleflorida.com.
Studies are published annually to insurance companies by risk management corporations that detail the total destruction of tropical storms and hurricanes. States like Florida that can have more than one devastating disaster each year are high risk insurance states. The cost of obtaining insurance in these areas comes at a higher cost compared to Midwest states that are at close to a zero risk of hurricane related damage. The cost of repairs to a property owned by a homeowner that has no insurance can be as much as one third of the property value.
The Owens Corning company performs annual testing based on its products in key severe weather states. The new data and technologies are put into new products that are used by roofing contractors nationwide. Roof Link Inc. uses the entire Owens Corning shingle line to offer homeowners the maximum amount of severe weather damage protection that is possible. Garrett Wadford, owner of Roof Link Inc., takes calls daily from North Florida homeowners that are worried about their existing roof.
"Homeowners with older and newer roofs contact us with a lot of concerns," said Wadford. "The biggest question that we get asked is can we prevent roof damage," Wadford added.
The shingles that are used by Roof Link Inc. and manufactured by Owens Corning are rated at 130 miles per hour in wind testing. This means that hurricane winds would have to surpass this threshold before shingle damage could occur. The Owens Corning line is constantly updated to provide more protection to homeowners that use these shingle products.
"We could've been certified by any shingle company, but we sought out the prestigious Owens Corning certification," Wadford concluded.
Roof Link Inc. is now working seven days a week to help homeowners prepare for the hurricane season now underway in Florida. Both repairs and total roof replacements are being made by area homeowners in an effort to stabilize their homes from wind, hail and water damage.
The Roof Link offices are located at:
Roof Link Inc.
2730 Isabella Blvd
Suite 50
Jacksonville Beach, FL 32250
(904) 900-2801
About Roof Link Inc.
Expert roofing contractors and easy insurance processing claims are just two of the reasons that Roof Link Inc. is leading the North Florida market as a specialist roofing company. First started in 2010, Roof Link Inc. has quickly turned the heads of homeowners by offering expert work for lower than market prices. A completely dedicated management staff oversees the day-to-day operations of Roof Link Inc. and ensures that all work is performed expertly and efficiently to help keep Florida homeowners safe.