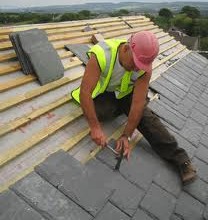 The rates between companies often fluctuate in the roofing industry especially in states like Florida.
Gainesville, FL (PRWEB) October 10, 2012
Roofing contractor in Gainesville, FL company, Roofing Emporium, has expanded its North Florida operations. This roofing company now has a larger database of contractors that are now on call in the Gainesville area. This extra manpower is a result of the hurricane season that is coming to a close. Roofing Emporium is growing its presence in many communities to be ready for reports of severe weather damage and new roof installation requests. A detailed profile of Roofing Emporium and overview of services available can be found at this link http://www.roofingemporium.com/roofing-contractor-gainesville-fl.
Roofing services can be one of the most difficult to find. There are hundreds of listings for roofing companies and few of these listings provide background information. Some companies have started to offer online quotes to help make the process of hiring a roofing company much easier. The Roofing Emporium company has upgraded its website technologies to include an easy way to receive quotes online. An easy quote form is now available for use that helps remove the offline processing usually required for a homeowner or business owner to receive an accurate quote for pricing.
Most homeowners have insurance policies that are underwritten to help provide damage protection, cleanup and restoration services. Homeowners that do not have insurance providers to call when damage happens can be at a disadvantage. The rates between companies often fluctuate in the roofing industry especially in states like Florida. To help provide easier ways to obtain roofing services, the Roofing Emporium company now has access to contractors that works even days a week. This is helping to improve the speed of response and is helping homeowners without insurance get affordable rates.
Part of the new expansion of services offered by Roofing Emporium in North Florida includes upgraded materials. Companies like Owens Corning that supply hurricane proof shingles are helping contractors at Roofing Emporium. The new and improved shingle and material offerings are designed to protect against high wind damage and water damage equally. These materials are designed to provide an extension of the natural lifespan of a residential or commercial roof covering.
The new contractor expansion by Roofing Emporium that has taken place in and around the Gainesville, FL area is expected to help thousands of homeowners and business owners. Expedited services and new and improved materials are now available to help homeowners after the hurricane season ends and the home improvement season begins.
About Roofing Emporium
The Roofing Emporium website is an online resource center used by homeowners and business owners. The roofing contractors that are supplied through this helpful website are Florida state licensed to repair and to install new roofs. With lower than competitive pricing and a trained roofing staff, Roofing Emporium has been able to grow rapidly in the North Florida area. High tech roofing supplies and materials are always used by the contractors working through Roofing Emporium to help keep homeowners and business owners safe. Roofing Emporium is headquartered in Jacksonville, Florida.