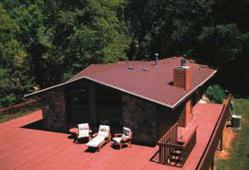 The metal roofing supplies now installed by Roof Link carry the extended term warranties honored by roofing material manufacturers.
Callahan, Florida (PRWEB) September 26, 2012
Roofing contractors in Callahan, FL from Roof Link Inc. are now installing metal roofs for homeowners in North Florida. The weather patterns along the Atlantic coastline are hard to predict and this area of Florida is in one of the most active hurricane zones. Roof Link contractors are offering metal roof installations and maintenance to homeowners. The strong and durable roof covering that metal roofs provide are designed to withstand any hurricane wind, repel rain and are not susceptible to rust or mold damage. The metal roof services now provided by Roof Link to residents of Callahan, FL can be found by going to this link http://www.roofingjacksonvilleflorida.com/roofing-contractors-callahan-fl-roof-link.
Traditional roofing materials like asphalt shingles or rubber roof coatings are designed to have a maximum lifespan of 20 years. There are some companies that have furthered engineering of roofing supplies and have been able to extend the natural life beyond the traditional limit. One benefit that homeowners have when using metal roofing materials is the added insulation. Because UV rays do not penetrate the metal materials, homeowners that use metal roofs often report decreases in home energy costs. UV and solar deterioration are two things that are quickly damaging to asphalt and rubber roof systems.
Hurricane and tropical storm winds can easily damage shingles or loosen shingles completely from the roof structure. States like Florida with higher humidity levels often report higher infiltrations of mold and other substances that are equally damaging to a roof. Companies like Roof Link Inc. that are able to dispatch contractors that can install multiple types of roof coverings can help homeowners decide what is the best type of covering for repair or replacement.
It is common for metal roof warranties to exceed 50 years with general wear and tear usage according to a recent roof study. A metal roof can be created from stainless steel, galvanized steel, aluminum, copper or zinc to help provide additional strength. It is the mixtures of these metals that help roofing companies to offer protection from hurricane force winds, hailstones and water intrusions. The metal roofing supplies now installed by Roof Link carry the extended term warranties honored by roofing material manufacturers.
One common myth that some homeowners believe about metal roofs is the sound that is created when rain or hail beats down on the metal coverings. While roofing systems 20 years ago were not insulated, the metal roofing materials used today include insulation to deaden the once annoying weather sounds that some homeowners reported.
Homeowners that would like to request an online roof repair or replacement estimate from Roof Link can now do so at this address:
Roof Link Inc.
2730 Isabella Blvd.
Suite 50
Jacksonville Beach, FL 32250
(904) 900-2801
http://www.roofingjacksonvilleflorida.com/contact
About Roof Link Inc.
Roof Link Inc. provides partner contractors for North Florida home and business owners that report roof damage or require new roof installations. By building its database of qualified workers, Roof Link has been able to be one of the companies that are able to respond first when roof problems happens. All contractors that are supplied by Roof Link Inc. are licensed in the state of Florida. Roof Link contractors are able to repair, install and maintain all modern roof types including alternative roof coverings. Roof Link Inc. is located in Jacksonville Beach, FL and has been offering its services for over a decade.