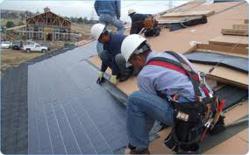 Apart from installing Owens Corning asphalt shingles, the contractors working through Roof Link are able to install varying types of flat roofs.
Doctors Inlet, Florida (PRWEB) September 24, 2012
Roofing contractors in Doctors Inlet, FL through Roof Link Inc. are now installing Owens Corning shingles for homeowners in North Florida. Roof Link is now dispatching contractors that use Owens Corning materials to ensure that homeowners receive the best protection from hurricane force winds, rain and hailstones. The Owens Corning products are manufactured in the Midwest although the testing that is performed is done in high hurricane risk states like Florida. The new Owens Corning shingles are able to withstand 130 mile per hour winds and are made to repel water intrusions and solar deterioration. More information about Roof Link contractors and materials used can be found by visiting this link http://www.roofingjacksonvilleflorida.com/roofing-contractors-doctors-inlet-fl-roof-link.
Florida's hurricane season has been underway since August and a near miss with hurricane Isaac was a wakeup call for many area homeowners that live in homes with older roofs or newer homes that could have inferior roof coverings installed. The standard tropical storm season typically produces two to three hurricanes annually and may affect homeowners in North Florida that live along the Atlantic coast.
The roofing contractors from Roof Link are now among the first teams of contractors that respond immediately after storm damage is reported to repair holes, cracks and missing shingles from homeowner roofs. New installations of roofs are also common after severe weather damage has affected more than 25 percent of a roof.
Roof coverings have changed drastically since the mid 1960s when asphalt shingles were the deemed the best source to protect a home. New manufacturing in the 1970s and 1980s made in possible for homeowners to explore other options for roof coverings that still provided proper drainage and energy efficiency. The recent trend in flat roof coverings is popular in Florida due in part to the range of materials that are now used to cover a roof.
Apart from installing Owens Corning asphalt shingles, the contractors working through Roof Link are able to install varying types of flat roofs like gravel, turf and rubber as alternatives.
Apart from first response services, Roof Link Inc. is now offering emergency services seven days a week. These additional services are designed to help relieve the stress that homeowners can feel when going through finding the right contractor to repair the damage to their roof. Roof Link emergency services are performed by the network of contractors that are part of the Roof Link contracting family.
Homeowners in Doctors Inlet, Florida and other North Florida communities can contract Roof Link for roof repair or roof replacement estimates at the following address:
Roof Link Inc.
2730 Isabella Blvd.
Suite 50
Jacksonville Beach, FL 32250
(904) 900-2801
http://www.roofingjacksonvilleflorida.com/warranty
About Roof Link Inc.
Roof Link Inc. is one of the first responder companies that send contractors instantly to repair and replace roof coverings in North Florida when severe weather happens. As roofing experts, Roof Link contractors are all state licensed and trained in modern roofing techniques that are monitored by the state of Florida. By performing work at lower than competitive prices, Roof Link Inc. has been able to build a reputation as an affordable roofing company. Roof Link is based in Jacksonville Beach, Florida and has been offering its services to residents in North Florida for more than a decade.