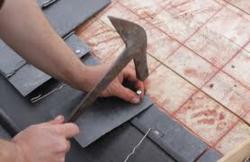 The roofing contractors at Roof Link Inc. are state licensed contractors that have completed all requirements for testing and education.
(PRWEB) September 17, 2012
Roofing contractors in Neptune Beach, FL are now working seven days a week at Roof Link Inc. This expert roofing company has expanded its homeowner services and is now one of the first companies to respond to reports of damage. The effort to expand business hours is designed to help homeowners during the current hurricane season and afterward when severe weather can still strike unexpectedly. The roofing contractors at Roof Link Inc. are state licensed contractors that have completed all requirements for testing and education. More information about Roof Link services in Neptune Beach, FL can be found at this link http://www.roofingjacksonvilleflorida.com/roofing-contractors-neptune-beach-fl-roof-link.
Hurricane winds can often exceed more than 120 miles per hour according to the National Weather Service. The strong winds that are often associated with hurricanes are usually the main cause of damage to a roof. Manufacturers of roof coverings often put years of development into creating products that can withstand severe wind, hail and rain.
Companies like Owens Corning are one of the top manufacturers of hurricane proof shingles and other roof coverings. Many of the products that are released by Owens Corning are rated at wind speeds above 120 miles per hour. This type of protection is generally recommended to homeowners in Florida by roofing contractors and insurance companies.
Roof Link Inc. is one of the only companies in the Jacksonville, FL area that is an Owens Corning Platinum Preferred Contractor certified for roofing excellence. To receive this prestigious certification, a lengthy review process takes place over the course of a one-year period. According to the Owens Corning website, only one percent of all roofing contractors that apply for certification receive it each year.
Insurance companies often assign special agents that respond to claims of damage reported after hurricane or tropical storms pass through states like Florida. These claims adjusters evaluate the scope of the damage to help adjust the contingency claim that insurers open when damage has occurred. A study released by insurance regulators reported that only 20 percent of homeowners reported that they understood the protections listed inside their homeowner insurance policy.
Roof Link Inc. is now one of few companies in Northern Florida that are able to provide homeowners with an insurance claim review to help avoid mistakes or errors made in assessments by insurance claims adjusters. This non-legal advice is based on the current Florida legislation and is designed to help more homeowners to reduce the cost of repairing roof or other structural damage to a home.
Homeowners interested in a roof repair or total roof replacement estimate can now contact Roof Link at this address:
Roof Link Inc.
2730 Isabella Blvd.
Suite 50
Jacksonville Beach, FL 32250
http://www.youtube.com/watch?v=SqqO6SWFL3Y
About Roof Link Inc.
Roof Link Inc. is one of the premier roofing contracting companies that covers the entire portion of Northern Florida. The strict insurance regulations and licensing requirements for working in Florida has not stopped Roof Link from offering its expert services to home and business owners. For over a decade, Garrett Wadford has been operating Roof Link Inc. with a simple strategy of expert level contracting work and affordable prices. The recent award by Owens Corning making Roof Link a Platinum Preferred Contractor has helped Roof Link to expand its contracting services with insurance companies and homeowners that take advantage of seven days a week services.