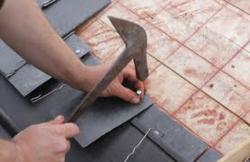 Roof Link Inc., a premier roofing contracting company, has expanded its staff of roofing contractors in Palatka, FL to prepare for the 2012 hurricane season.
Palatka, Florida (PRWEB) September 09, 2012
Roofing contractors must undergo training and educational testing before they can receive a Florida state contracting license. These requirements are not an issue to one roofing company in Florida that has expanded its service availability. Roof Link Inc., a premier roofing contracting company, has expanded its staff of roofing contractors in Palatka, FL to prepare for the 2012 hurricane season. The near miss of hurricane Isaac has left many home and business owners worried about the lack of qualified roofing contactors that can respond immediately to reports of roof damage. Information about the new expansion of the Roof Link service area or online estimates for roof repairs can be obtained at the following link http://www.roofingjacksonvilleflorida.com/roofing-contractors-palatka-fl.
The media reports hurricane damage, but it is the tropical storm damage that is less likely to be reported. Although winds from tropical storms are less than 75 miles per hour, the strength of these winds is more than enough to tear off shingles or cause other types of roof damage. Insurance companies use verifiable data to declare if a home was damaged by a hurricane or by a tropical storm. States like Florida have recently changed legislation that works much in the favor of homeowners. The new legislation requires that if more than 25 percent of a roof has signs of damage it must be replaced. This legislation is one contributing factor to the increase of work now performed by Roof Link Inc.
Shingle manufacturers that produce products for installation do so according to insurance data demographics. A homeowner that lives in a state that does not have risk of severe weather can often find much cheaper shingles for purchase. Homeowners in Kansas, Missouri and Florida that have homes susceptible to unpredictable weather patterns during all months of the year often pay more for weather proof shingles. Companies like Owens Corning are large manufacturers of weather protection shingles in the U.S.
Roof Link Inc. now exclusively installs shingle products manufactured by Owens Corning. The new Platinum Preferred Contractor certification recently earned by Roof Link Inc. was awarded by Owens Corning for roofing excellence.
As the hurricane season in Florida begins, state agencies are urging residents to protect their home from severe weather damage by having roof inspections and repair work complete. The extension of working days now undertaken by Roof Link Inc. is designed to bring protection for home and business owners that want to prevent severe weather damage from happening.
Homeowners that want a fast estimate for repairs can contact Roof Link Inc. at the following office address:
Roof Link, Inc
2730 Isabella Blvd.
Suite 50
Jacksonville Beach, FL 32250
(904) 900-2801
http://www.roofingjacksonvilleflorida.com
About Roof Link Inc.
With roofing contractors available in nearly every county in Florida, Roof Link Inc. has expanded its business operations to assist homeowners by repairing roof damage instantly. Roof Link Inc. is always one of the first responders to hurricane or severe weather damage in North Florida and has an experienced staff of contractors that perform all repairs and replacements. The cost of roof repair work has recently been lowered by Roof Link Inc. as an incentive for struggling homeowners that must repair damage without a form of insurance coverage. Roof Link Inc. is based in Jacksonville Beach, FL and is on call seven days a week as a top roofing contracting company.